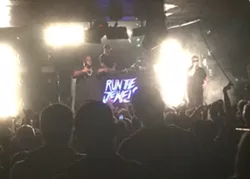 In what could certainly be called the first "big show" of 2017 here in Cleveland, Run the Jewels tore up a sold-out House of Blues on Saturday, crystallizing their role as one of the most compelling acts in hip-hop today.
If you've perused any of their three albums, you can rest assured that their live show is an ear-bleeding trip through inventive hooks, socially conscious lyricism and jump-the-fuck-up beats. Much of the show was spent gallivanting through
Run The Jewels 3
, the latest album, which dropped on Christmas Eve. In the crowd, the atmosphere was akin to a hardcore show at times.
Probably the strongest takeaway was the light show — a truly remarkable kaleidoscopic backdrop for the duo's acrobatics. Killer Mike (adorned in heavy-set gold chain) and El-P (hidden behind shades all night) shuffled to and fro across the stage, often appearing only intermittently between bursts of strobe and beam.
There were no overt political messages, as one might have wondered. Killer Mike, of course, was a fixture on the Bernie Sanders campaign back in those wacky Democratic primaries. Early on in the show, the guys did address mosh pit safety and respect for women. (It's hard not to think of some of that stuff as pure liberal-millennial
pandering
, given that one of RTJ's signature lyrics is: "I put that dick in her mouth all day.")
The Gaslamp Killer opened the show (and later performed a great set at a B-Side after-party). If you ever catch the opportunity to hear him DJ, don't miss it. This guy was fun as hell, and he really tapped into the blistering energy of RTJ. Gangsta Boo also dished up a quick set to kick things off right (and later guested with RTJ).
Setlist:
Talk To Me
Legend Has It
Call Ticketron
Blockbuster Night, Part 1
Oh My Darling Don't Cry
Nobody Speak (DJ Shadow cover)
Hey Kids (Bumaye)
Stay Gold
Don't Get Captured
Panther Like a Panther
Everybody Stay Calm
Love Again (Akinyele Back) (with Gangsta Boo)
Lie, Cheat, Steal
Early
A Report to the Shareholders
Close Your Eyes (And Count to Fuck)
Down
Encore:
Kill Your Masters