Photos by Eric Sandy / Scene
This morning, several dozen new U.S. citizens took the oath of allegience in a warm federal courtroom as family members and other Cleveland-area residents looked on with pride.
These naturalization ceremonies take place at Ohio's Northern District federal courthouse every other week. Judge James Gwin, beaming over the virtues of citizenship, said that his court recently naturalized a 97-year-old Mexican immigrant. "I think that spoke very strongly about the importance that immigration has for our country," he said this morning.
The whole event offered a fairly stirring scene. As courtroom officials read off the name of each new citizen, they also mentioned their country of origin. Gwin was quick to point out how that was often his favorite part of these ceremonies; people had immigrated to the U.S. from all over the world, including Ethiopia, Cameroon, Iraq, France, Canada, Colombia and Greece, to name just a few from today. Men and women and children waved small American flags and snapped photos of their family members receiving their certificates of citizenship. (One man raised his flag high as he left the courtroom and shouted, "Go Team America!")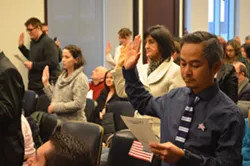 Outside the courtroom, about 20 local residents gathered with signs reading "Thank you" and "We're glad you are here" in various languages spoken around the world. Organized by Rebecca Maurer, the group gathered at the courthouse this morning "to show support for and cheer on those being sworn in at the ceremony."
Elsewhere, representatives from Global Cleveland greeted new citizens and pointed them toward an array of resources, including voter registration sheets.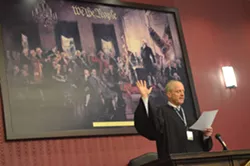 Jaspreet Reen, from India, told
Scene
that he particularly enjoyed Gwin's brief history lesson on American independence. King George of Great Britain at the time barred American colonies from naturalizing new settlers. The Declaration of Independence condemned the king for his stance, thus paving the way for some 241 years of this grand experiment in rule.
"That kind of made my day," Reen said with a smile.