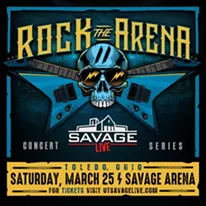 Now in its second year, Rock the Arena II returns to the University of Toledo's Savage Arena on March 25 with a lineup that caters to the classic rock crowd.
Recent Rock & Roll Hall of Fame inductees Cheap Trick headline the all-day concert that features Lou Gramm — the Original Voice of Foreigner, Cinderella's Tom Keifer, Warrant, Quiet Riot, former RATT frontman Stephen Pearcy, Jack Russell's Great White, Vixen, Autograph and Trixter.
Last year's sold-out inaugural event marked the return of self-promoted concerts to the University of Toledo's Savage Arena.
"Rock the Arena brings a festival atmosphere indoors," says University of Toledo spokesperson Chris Thompson in a press release. "In fact, it could be an even more enjoyable experience in some instances since everything is on one stage, in one day. Fans have the opportunity to see multiple bands from the pit or a reserved seat without having to worry about the weather, missing a performance on another stage, or losing their spot. Last year, there was something like 1800 fans through the doors in the first 15 minutes and more than 2/3 of ticket holders had scanned in by the end of the first act. We heard from community members who had never been to Savage Arena before and alumni who hadn't been back in years and everyone talked about what a great time it was."
"That was one of the goals of Savage Live, to bring more people to campus, as well as to provide additional entertainment options for our students, donors, season ticket holders, employees, alumni, and community members," adds Dave Nottke, the school's Deputy Director of Athletics.
Tickets are currently available online at
UTSavageLive.com
, by phone at 419.530.GOLD or in person with no fees at the UT Ticket Office at Savage Arena.