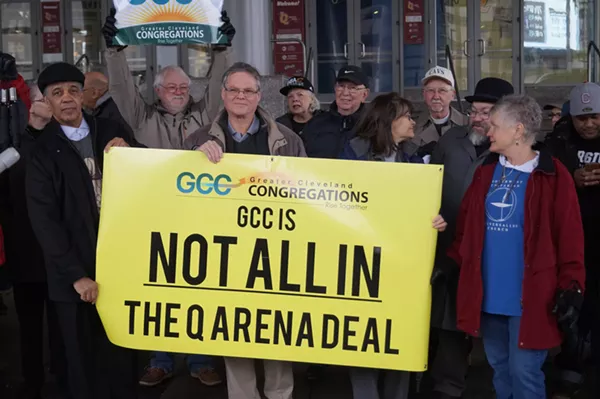 Greater Cleveland Congregations (GCC) has asked Cavaliers' owner Dan Gilbert to personally contribute $35 million to a Community Equity Fund that would match, dollar-for-dollar, all $160 million of the publicly financed portion of the Quicken Loans Arena renovation deal.
In a meeting with Cavs' corporate leadership Feb. 6 (a meeting that included Cavs' President Len Komoroski, but not Gilbert himself), GCC asked for a face-to-face meeting with Gilbert to seek his support for the fund. The $35 million that GCC wants from him would instantly capitalize the fund and provide start-up costs for the construction of two mental health crisis centers in Cleveland, one on the east side and one on the west. In addition to the crisis centers, GCC would like to fund "Job Access Pipelines" and "Neighborhood Capital Projects" with the community dollars.
Requesting substantial direct support from Gilbert stems from GCC's idea that Cleveland residents are getting railroaded by downtown interests and that there needs to be commensurate investment in distressed neighborhoods if Gilbert and the Cavs' (and, crucially, elected leaders) want voters' support for what's being spun as a "deal" — not like they ever asked for it.
"At a time when we need to unite our city and county, this deal as it stands further divides Cleveland," GCC wrote in a letter to Gilbert, delivered to Komoroski on Feb. 6. "We are asking for a meeting directly with you to negotiate these terms, because you are the principal decision-maker. We believe it is your responsibility to ensure this deal builds one Cleveland."
In a press release sent to media this week after GCC received no response from the Cavaliers' organization, GCC got more specific about the imbalance of the deal.
"GCC's belief is that the financial benefit Mr. Gilbert and the Cavaliers accrue from the Q far outweighs what Cleveland-area residents receive in return," GCC leaders wrote. "Examples of these benefits include not paying property tax on the Q building, extracting exclusive value of the building's naming rights, and a Cavaliers franchise now valued at $1.2 billion, up from $375 million when Mr. Gilbert first purchased the Cavs, which the public helps subsidize through the current Q arrangement."
GCC plans to discuss the deal on March 9 at 7 p.m. at Elizabeth Baptist Church. They hope to be making a positive announcement, but given the response to date — nothing from the Cavs, not a peep from County Executive Armond Budish, whom they met with in January — they may have to settle for rallying the crowd against greed and injustice.
The March 9 assembly will build on
the choreographed demonstration
at County Council Headquarters last week, where more than 100 GCC members packed into council chambers to declare that they were #NotAllIn on the renovation deal.
Fairmount Temple's Rabbi Josh Caruso, one of several speakers for GCC, asked why Cleveland's income tax hike had just been passed, premised on a lack of resources for basic city services, when the city seemed to have access to tens of millions of dollars for the Q deal. He also posed the question: What's to stop the Indians or the Browns from asking for a similar deal in the next few years? "Doesn't this open the floodgates?" He wondered. "Where does it stop?"
County council will deliberate on the Q deal during their committee meeting at 2 p.m. tomorrow. That takes place on the fourth floor of the county administrative headquarters (2079 E. 9th St.).