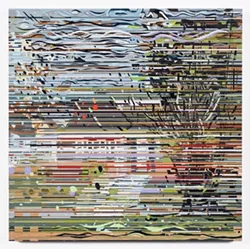 American Greetings' gorgeous new world headquarters at Crocker Park includes a public art gallery, Gallery W, which regularly showcases work by local, national and international artists. Free and open to the public,
Divergent Explorations: Works by 5 Contemporary Artists
is just the fourth exhibition since the gallery opened last September.
"The ideas presented by each artist invite us into their experience and how they interpret color, media, nature, art history and technology," says Linda Marshall, digital creative director at American Greetings and manager of Gallery W. "With truly divergent portrayals that collectively ignite the gallery space, this show can't be missed by any art lover."
Gallery W's latest exhibition features the work of five artists with deep ties to the Cleveland Institute of Art.
Divergent Explorations
includes new and recent work by Lane Cooper, Ben Grasso, Tony Ingrisano, Scott Stibich and Dan Tranberg.
"The important work in this exhibition is that of professors and alums at the Cleveland Institute of Art," says CIA Senior Vice President of Academic Affairs Chris Whittey. "I have never worked at the side of such dedication, keen intelligence and exemplary talent. I consider myself to be as fortunate to have Cooper, Tranberg, Grasso, Ingrisano and Stibich as my associates as the students at CIA are to have them as their mentors and priceless role models."
Lane Cooper holds both an MFA in painting and a master's degree in art history with an emphasis in contemporary art from the University of Alabama. She has taught at the Cleveland Institute of Art since 2001, currently serving as an associate professor in the painting department. Last year, Cooper curated
I Came So Far for Beauty
at the Galleries at Cleveland State University, and debuted her latest solo exhibition,
What Dreams May Come
, at Waterloo Arts. "Acting as metaphor, it focuses on an experience of the world that is constantly shifting between the sensual external and the intellectual internal," Cooper says of her work.
Ben Grasso received his BFA in painting from the Cleveland Institute of Art in 2003. Following his studies at CIA, Grasso pursued a master's degree in painting at Hunter College. His acclaimed work has been exhibited throughout the US and in Italy, and is represented by Thierry Goldberg Projects gallery in New York. "My painting does not seek to present something impossible or particular; instead it represents something contingent, a re-alignment of logic that makes plastic the anxiety underlying objects in the world," says Grasso.
Tony Ingrisano is an assistant professor in CIA's Painting and Foundation departments. Ingrisano received a BA in studio art from the University of Vermont and his MFA from Pratt Institute in Brooklyn. Before coming to CIA, Ingrisano taught at Briarcliffe College, and was a contributing essayist to Sharon Louden's book,
Living and Sustaining a Creative Life
. Currently serving as the chair of the painting department, Ingrisano says his recent work "is concerned with re-examining the aesthetic nature of the many natural and man-made systems that surround us."
Scott Stibich studied sculpture at the Cleveland Institute of Art. Since graduating in 2010, Stibich has continued to create sculptures and installations, utilizing "readily available objects, media and recognizable environments to create a baseline connection with the viewer."
Dan Tranberg has been teaching painting at CIA for more than 15 years. One of the region's most respected art critics, Tranberg literally wrote the book on painting theory,
Acrylic Fusion
(Quarry Books, 2012). He has published more than 750 articles on art in local, national and international publications, and his personal work has been exhibited in more than 40 exhibitions. In 2004, he was awarded an Excellence in Journalism award, as well as Individual Artist Fellowships from the Ohio Art Council in 2002 and 2007. His latest series explores hard edge geometric abstraction. Tranberg says his current work "highlights bold and subtle interactions of pure color, demonstrating and celebrating the endlessly complex ways in which color can be perceived."
The exhibition opens with a free, public reception from 5 to 7 p.m. on Thursday, March 2, and remains on view through April 28.
(American Greetings) 1 American Blvd., Westlake, 216-252-7300, americangreetings.com