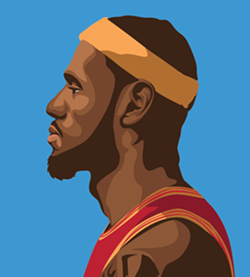 LeBron James' on-court achievements during the month of February were enough to net him
NBA Eastern Conference Player of the Month Honors
. He has been so named 34 times, the most by any player since the designation was first handed out, during the 1979-1980 season.
The Golden State Warriors' Kevin Durant, with 14 Player of the Month Honors, is second among active players. Only Michael Jordan (16) and Kobe Bryant (17) have more than Durant.
That's right: LeBron, who's still playing at an elite level,
has twice as many Player of the Month honors
as the second-highest player, Kobe, who retired after last season.
To be fair, Michael Jordan retired before the Player of the Month was awarded to a player from each conference. There were more than 20 months from the first time MJ won a Player of the Month award, (Nov., 1986), to the last, (Mar., 1998), when a player from the Western conference took home the league honors (excluding the '93-'94 season and all but the last two months of the '94-'95 season) where Jordan had the best odds of winning the award in the East. It's fair to assume that he would've been way ahead of Kobe, up near LeBron's stratosphere.
But no player has been as dominant as LeBron for as long. He won his first player of the month award in Nov., 2004, his second year in the league. Here's his accolades from last month, via NBA.com:
"The Cavaliers were 9-1 with James in the lineup in February (9-2 overall) as the 32-year-old forward averaged 25.9 points (third in the East), 10.6 assists (second in the East) and 7.2 rebounds. He shot 63.7 percent from the field (second in the conference) and 56.8 percent from three-point range (fourth in the conference), his highest percentages for any month this season. James scored at least 20 points in eight of his 10 games and dished out 10 or more assists six times on his way to averaging the most assists for any month in his 14-year career. During a 111-104 victory against the New York Knicks on Feb. 4, James became the youngest player in NBA history to reach 28,000 points."