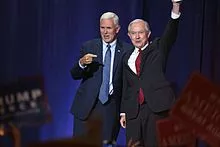 After a flurry of bomb threats against Jewish Community Centers around the country,
including the Mandel Jewish Community Center in Beachwood
, the leaders of those organizations are urging Attorney General Jeff Sessions to do more in response. The leaders also requested a meeting with Sessions.
The FBI and Department of Justice have initiated investigations.
All 100 U.S. senators have
similarly demanded
that the Donald Trump administration do more to combat these anti-Semitic threats.
St. Louis native and disgraced former journalist Juan Thompson
has been detained on cyber-stalking charges
in relation to threats placed against eight Jewish Community Centers.
Read the JCC leaders' letter
here
.
President Trump forcefully condemned the situation at the outset of a speech to Congress, DHS has promised heightened support to JCCs through its protective security advisors, and our leadership had the chance to meet with FBI Director Comey.

Still, we are frustrated with the progress in resolving this situation. We insist that all relevant federal agencies, including your own, apply all the resources available to identify and bring the perpetrator or perpetrators, who are trying to instill anxiety and fear in communities across the country, to justice.