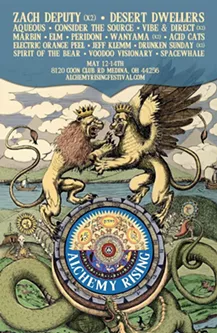 Both nationally touring acts and local and regional bands will perform at the second annual
Alchemy Rising Music and Arts Festival
that takes place from May 12 to May 14 in Medina (with special Early Bird camping beginning on May 11).
Zach Deputy brings its jam, funk and soul sounds to two nights of the event, and jam acts Desert Dwellers, Aqueous, Consider the Source, Vibe & Direct, Marbin, ELM, Peridoni and Wanyama will also perform.
Central 8 Studios will provide the sound, lights and overall production. There will also be a number of workshops throughout the weekend.
According to the press release announcing the festival, organizers for the event were inspired by "the idea that a festival can transcend the conventional limits of a social gathering and have dedicated themselves to creating a truly holistic and memorable event, one that focuses not just on music but offers something more to engage with people on each and every level."
In keeping with the spirit of the event, Alchemy Rising has enlisted the services of Zero Waste Event Productions, a leading waste management and recycling/compost service provider for outdoor music events such as this.
Sixty dollar tickets are available online until March 27. After that, tickets will cost $70 pre-sale/$80 at the gate.
For those looking for a head start, special Early Bird pre-sale tickets for $15 / $20 at the gate include camping on May 11. For just a total of $75 (early Bird ticket + $60 presale GA ticket), you can arrive Thursday and stay all weekend.