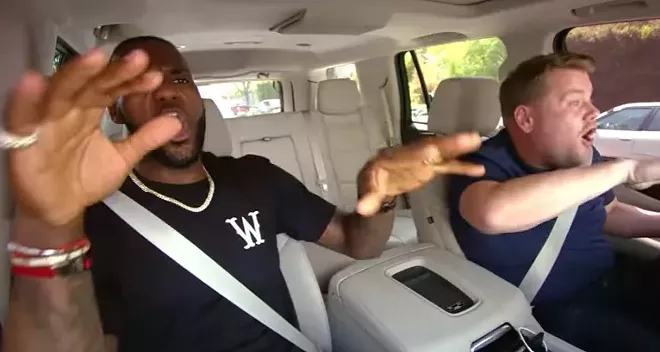 Update: In March, James Corden and LeBron James met up in L.A. to film what we expected to be a Carpool Karaoke segment for
The Late Late Show
. Now we know what that was all about.
No longer will the singing skits only be shown on late-night TV, now you can watch
Carpool Karaoke: The Series
on Apple Music streaming service. A preview of the new series recently dropped, and it features Akron's own James wildly singing "Maniac" along with British-born Corden.
Check out a preview of the ridiculous new series here (don't worry, LeBron James shows up a couple times):
***
(Original post 3/22/2017): LeBron James was
spotted
in L.A. Monday with James Corden and Ice Cube dancing and fighting ninjas, just the sort of stuff you'd expect the trio to get into together.
King James, it's now evident, filmed a segment for an upcoming episode of
The Late Late Show.
The MVP seems like a natural fit for Corden's popular Carpool Karaoke segment ... but we're not sure where Ice Cube fits in. James gave a few hints to the
Akron Beacon Journal
though, saying that the sketch with Corden is "Going to be phenomenal ... It's not just us in the car singing songs. I can't tell you exactly what we're doing, but we've got a whole production going on."
There's no air date yet for James' Carpool Karaoke episode, but we'll keep you updated.