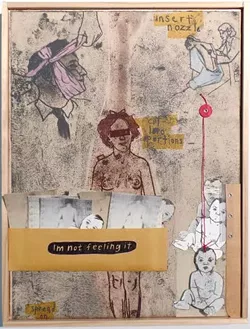 Liz Maugans' "I'm Not Feeling It."
Earlier this year, from January to March, the Cleveland Print Room hosted
Inside Outside: Dr. Jelliffe's Slides
, an exhibition of institutional slides used by the doctor in presentations on psychoanalysis. The show featured an early 20th-century "magic lantern" slide collection from the New York State Psychiatric Institute and Hospital, now known as the Neurological Institute of New York, part of the Columbia University Medical Center. Although the photographer of these slides is unknown, the collection was formerly owned by Smith Ely Jelliffe, who used the slides for public and professional presentations. An author, professor and physician, Dr. Jelliffe was one of the earliest proponents of psychoanalysis in the U.S. These slides include photographs of patients, hospitals, diagrams, x-rays and even artwork by patients.
The Cleveland Print Room's latest exhibition,
Experiment in Progress: Do Not Disturb
, showcases artistic responses to the original slides by 15 local artists and musicians. Opening with a free, public reception from 5 to 9 p.m. on Friday, April 7, the exhibition remains on view through May 13. During Friday's reception, live performances will take place between 7:30 to 8:30 p.m.
"These hauntingly beautiful slides from the Inside Outside show, along with the many reference and technical slides, are the perfect mix, pushing the limits between fine art photography and medical research," says Cleveland Print Room founder and director Shari Wilkins. "The original exhibition, an unusual one to start with, allows us to couple the original lantern slides with the newly created works."
Participating artist include: Laura Ruth Bidwell, John W Carlson, Hadley K Conner, Jeff Curtis, Robert Darkmatter, Yael Eban, Elizabeth Emery, Bianca Fields, Hilary Gent, Stephan Haluska, Jacob Koestler, Greg Martin, Liz Maugans, Deborah Pinter, Melinda Placko, Steven Standley, Arnold Tunstall, Rebekah Wilhelm and Justin Woody.
Following
Experiment in Progress: Do Not Disturb
, the Cleveland Print Room will host its third annual juried exhibition,
The Peer Show
, from June 9 to July 16. This year's jurors are Alexandra Coon, Executive Director of Massillon Museum and Tom Huck, Art Curator at University Hospitals Cleveland Medical Center. Open to all photographers in the U.S. and Canada over the age of 16, submissions are currently being accepted through May 31. For more information, visit clevelandprintroom.com.
(Cleveland Print Room) 2550 Superior Ave., 216-401-5981, clevelandprintroom.com.