Cleveland police are currently looking for Steve Stephens, who allegedly shot and killed a man today while streaming the murder on Facebook Live. The victim was later identified by police as Robert Godwin Sr., 74.
The shooting took place around 2 p.m. East 93rd, just south of I-90, and police are reportedly searching several nearby areas. Residents in the vicinity have been advised to stay indoors.
From the police department: "Armed and dangerous. If seen call 9-1-1. Do not approach."
Cleveland State University issued a "shelter in place" text to students, which, by 8 p.m., had been rescinded. University Hospitals locked down its Euclid Avenue location during the day, as well.
The Facebook Live video of the shooting has since been taken down, but it had remained on Stephens' page for three hours today. He
reportedly claimed
to have killed other people in a separate video, which has also been removed. (Stephens' page has been entirely deactivated.) Cleveland police have only confirmed one killing. In snippets of the video that have been shared, Stephens says that he "snapped."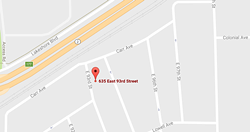 Stephens is 6'1", 244 lbs. with a beard. Police officials state that he was last seen wearing a dark blue and grey or black striped polo shirt. He is driving a "white Ford Fusion with temp tag." His temporary license plate reads: "E363630," according to police.
Mayor Frank Jackson and Police Chief Calvin Williams updated the community this evening. "We need Steve to turn himself in," Williams said. "We want this to end with as much peace as we can bring to this right now. What happened today is senseless."
Williams said that the police department has worked "probably hundreds" of leads today; no other crime committed today has been connected to Stephens.
"There are no other victims that we know of," Williams said.
The FBI is assisting the police department in this manhunt.
Stephens' employer, Beech Brook, issued a statement: "We are shocked and horrified and we don't know anything more about it we hope and pray that he is arrested as soon as possible and we hope and pray for a resolution quickly."
(sic)
Note: This story has been updated with information provided by the Cleveland Police Department. We will continue to update the story as we learn more.