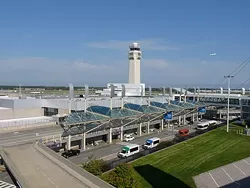 The news networks pounced, Tuesday afternoon, at word of a suspicious bag at Cleveland Hopkins International Airport.
Some passengers were evacuated. The highway entrance was shut down. The Rapid Red Line switched to shuttle service. K-9 units and a bomb squad arrived on scene. (These are all natural precautions, of course, and it's hard to say whether or not they might have been avoided.)
The "suspicious bag" that caused the ruckus turned out to be an empty guitar case. Airport Director Robert Kennedy told local media in a press conference yesterday evening that a passenger had abandoned the case in the upper ticketing level at about 2 p.m. after he was told he could not use it as a suitcase. A baggage handler spotted the guitar case and contacted TSA, whose agents contacted Cleveland Police.
Police spokeswoman Jennifer Ciaccia
told Cleveland.com
that batteries inside the guitar case may have caused K-9 units to "alert the bag," which is why a bomb squad unit was summoned.
The passenger who left the case was questioned and released. Some flyers were inconvenienced, but the airport did its best to accommodate them. No one was hurt and regular operations resumed by 4 p.m.
And once again: We can't be too careful in Cleveland.
At least one famous local celeb has used a guitar case to lug far more dangerous cargo
.