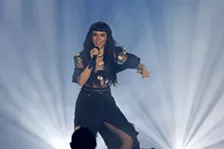 At the beginning of last night's 75-minute concert before a near-capacity crowd at Hard Rock Live, the Band Perry singer Kimberly Perry encouraged patrons to let loose. "We have one rule," she said. "You need to get loud, wild and crazy. Do I need to remind you that it's Saturday night?"
Those efforts came to naught, however, as fans stuck to their seats despite the band's rock n' roll entrance that found it arriving on stage in a cloud of smoke that came courtesy of an over-active dry ice machine. You can see a slideshow of photos from the concert
here
.
In the process of transitioning from playing country to pop, the band relied on the use of pre-recorded beats throughout the show. Whether she sang country or rock tunes, Perry certainly made for an engaging frontperson. Wearing a tattered black denim skirt, fishnet stockings and a mid-riff baring top, she looked fabulous and fit, and her voice generally sounded sharp.
But the band appeared to struggle a bit with its still-in-the-works transition from country to pop, and the show experienced several fits and starts before coming to a climactic close with a crowd-pleasing rendition of Queen's "Fat Bottomed Girls."
The mix of new and old songs often made for awkward juxtapositions. The sample-heavy "Chainsaw" relied on electric percussion and had a stadium rock feel that Perry accentuated with fervent fist pumps. "Stay in the Dark," the band's new single from a forthcoming studio effort, sounded like a cross between Katy Perry and Ariana Grande, and bassist Reid Perry did his best to bring out the song's synth-pop tendencies as he punched the buttons of an electronic keypad to make the song really pop.
The band inserted a few riffs of "I Will Always Love You" into its rendition of "All Your Life" and then delivered a rousing mash-up of "Sweet Dreams," "Crazy" and "Sexyback" that again suggested its pop rock aspirations. Fans, however, appeared dumbfounded by the wild swings from one genre to another.
The group paired things down for "If I Die Young," a beautiful ballad that relied more on mandolin and piano than prerecorded beats. Stripped to a trio, it also delivered a medley of its tunes that reflected its sense of "wanderlust," as Kimberly Perry put it.
The group plugged back in for "In It Together" and Perry encouraged the audience to "bounce." The song called out for a rap feature, but neither of the singer's brothers appeared capable of delivering on that account.
The two-song encore concluded with the new track "Look at Me Now," a song that the group undoubtedly hopes will become its mantra as it moves into the pop/rock world. Whether it can successfully make that transition remains to be seen.