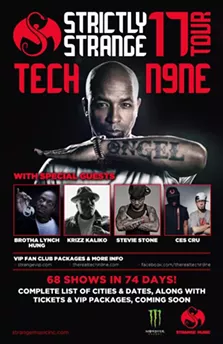 Last year, rapper Tech N9ne (Aaron Yates) embarked on what he called the Independent Powerhouse Tour 2016 with acts such as Ces Cru, Stevie Stone, ¡Mayday!, Rittz, Krizz Kaliko. It capped off yet another busy year for the rapper who seemingly can't stop and won't stop touring and recording at a feverish pace.
"Last year was filled with doing records and collaborations and touring heavy and divorce lawyer talking," says Yates via phone from an Orlando tour stop that represents the 36th date of a 68-date tour. "We didn't do a vacation last year [with the family] because we were so busy. This year, we have one planned, but it's always busy with a lot of touring and a lot of recording."
Yates, who began his career as a breakdancer, started rapping at an early age.
He wrote his first rhyme in seventh grade. Even his teachers noticed his commitment to the art.
"My teachers would say, 'Mr. Yates, if you know your schoolwork like you know that music, you'd be an A student,'" he says with a laugh. "Now look at me. My last years in school, I wanted my rhymes to be smarter, so that's when I started getting on honor roll. I waited until the end of my school years to buckle down and start doing my work."
Influenced by rapper Slick Rick and a few other old school acts, he developed his unique rapid-fire delivery.
"I think it came from listening to other MCs like Slick Rick and Ice Cube and Public Enemy and NWA," he says when asked about how he came up with his distinctive style. "Those artists really inspired me. When I first started, I sounded like Ice Cube, so I had to find my own voice within that. All I knew was that I wanted my voice to be powerful like that, like Public Enemy's Chuck D and Cube. I wanted it to be commanding. I wanted to talk about something as well. I knew I wanted Tech N9ne to be the ultimate MC. I wanted him to do everything. I wanted to do metal and hip-hop. Public Enemy had worked with Anthrax, and Run DMC had worked with Aerosmith. Those were wonderful things. Beastie Boys had that feel to some of their music. I'm glad that was there early because they inspired me to dabble in metal as well."
Initially, Yates performed with various groups from his Kansas City hometown. Those acts would disband, and Yates eventually began a solo career; he and business partner Travis O'Guin founded the Strange Music imprint to release his solo albums. They'd sign other acts to the label as well.
Since 1999's
The Calm Before the Storm
, Yates has released a slew of albums and constantly toured in support of them (in our interview, he fondly recalled local shows at the now defunct Peabody's).
After years of working the indie circuit, he's finally started to reap some mainstream success. In 2015, he had the biggest radio hit of his career with "Hood Go Crazy," a single from the studio effort
Special Effects.
The track features 2 Chainz and B.O.B.
"I just knew it had to be super elite, musically and lyrically," he says of the album. "I was trying to prove to the industry that I can do anything as an independent. If I set out to do a song with Eminem, I did it. If I set out to do a song with Corey Taylor from Slipknot, I did it. If I set out to a song with 2Chainz and Lil' Wayne and B.O.B. and all these people, I did it. I was trying to show the industry that talent still exists. I wanted to show that I could lock these songs down and get them cleared. I showed them that I could do, and [the artists] didn't charge me out of respect for the art. That made me feel so special."
Last year's
The Storm
also features some high profile guests; Korn's Jonathan Davis, Boyz II Men and Gary Clark, Jr. all appear on the disc.
"With
The Storm
, I knew if I named it from my first album, it had to live up to it," he says. "It was hard to do. Some really good music is on that record. We're still playing it. It's still relevant. It's a great body of work."
Now, Yates is back on the road with his Strictly Strange Tour 2017 that includes labelmates Krizz Kaliko, Stevie Stone, and Ces Cru. The tour supports the collaboration album,
Dominion
, which just came out last month.
"It was different," he says of the album. "With all the other collabos, me and Krizz Kaliko get the beats from Seven. We come up with the choruses and the verses and send them out to all of our artists. This time, the artists got the beats first and they sent them to me. It was wonderful how it came about. I'm glad we did it like that because it gave us more time to do more music. We did 32 songs and there will be a Dominion Part 2. I didn't choose which songs to include. I just did them. Good thing that I surround myself with elite artists. When they send me the stuff, we just get right to work."
Yates says that because the acts on his label think of one another as a family, the album naturally reflects those ties.
"We always keep each other sharp," he says. "There's a lot of talent on this label, so if you're a slouch, everybody will know. You can't rap alongside Ces Cru and not go. You cannot rap alongside Rittz or Krizz Kaliko or Stevie Stone or JL and not go. Mackenzie Nicole is an elite songstress. You have to measure up, you know what I mean?"
While Yates didn't join the artists in the studio to lay down his tracks, he added his bits while touring. The songs sound so seamless, you'd never know he wasn't the studio with the various collaborators. One standout, "Lowdown," features rappers Darrein Safron and Ubiquitous. The song commences with a chant before sparse breakbeats kick in.
"I love how smooth it sounds and how real it is," he says of the song. "There are a lot of moments on the record I really love. There's one called 'Casket Music' that I love too."
The album opener "Drama" features rattling percussion and allows Yates to really let loose as he spits out his lines with remarkable intensity, rapping about how Missouri's concealed and carry law now allows anyone to possess firearms without a permit or any training.
"It's a reference to how my life is in the present," he says. "With more recognition and fame and monetary gain, some things sometimes come at you that aren't pleasant from people who are close to you or people who don't know you at all. It's just something I felt at the time, and it's still relevant. Drama is there, and I don't want it."
Yates says he's never short on ideas. Writer's block isn't part of his vocabulary.
"Life keeps me writing and living life keeps me hungry for more knowledge," he says, adding that he'll put the final touches on
Dominion Part 2
and start his next studio project after the tour ends, and he returns to Kansas City. "I pay attention to some things. I will never have writer's block. I just have style block. I think, 'How do I want to execute this song?' The beat usually tells you how to execute it, so I don't see a block anytime soon."
He's particularly proud of the current tour.
"This is the best show I've ever put together in my whole career because I get to be three different people in one setting," he says. "I get to be the king, the clown and the G. I get to bring them forth after all these years. I first introduced them on my
Everready (The Religion)
album. They're all me. We do it very well. It's stellar. Me and my video and musical team have done a great job on this show, and we have these video screens that make this thing come to life. It's the best show I've ever put together."
Tech N9ne, Brotha Lynch Hung, Krizz Kaliko, Stevie Stone, Ces Cru, 7 p.m. Wednesday, May 17, House of Blues, 308 Euclid Ave., 523-2583. Tickets: $30, houseofblues.com.