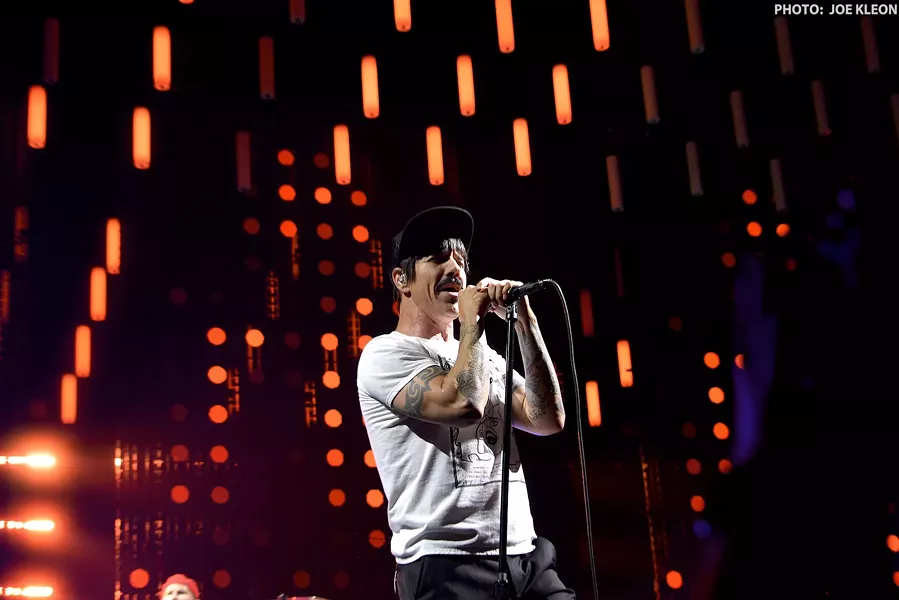 Early in last night's 100-minute set at Quicken Loans Arena, Red Hot Chili Peppers singer Anthony Kiedis acknowledged the roar of the near-capacity crowd with a simple "thanks." And then he paused and added "for everything."
The pause said plenty. It was as if Kiedis recognized how special it is that the veteran alternative rock act can still pack an arena with fans at this stage in its 30-plus year career.
The band's mix of punk, funk and rock remains vibrant, and the group proved it still delivers a killer live show. You can see photos from the concert, which also included performances by the indie rock act Irontom and original Peppers' drummer Jack Irons,
here
.
The band began as it always begins its shows these days — with a ferocious jam. Bassist Flea, guitarist Josh Klinghoffer and drummer Chad Smith arrived on stage first and busted into a funky groove before Kiedis strutted out to join them and sing and rap his way through the bass-driven "Around the World." Hundreds of glowing cylinders that hung over the floor seats swung like a canopy of lights you might see waving in the wind on a back porch. They created wave-length patterns throughout the performance and provided a remarkable visual dimension.
The group would pepper the set with tracks from its latest effort, last year's
The Getaway
, as well as radio hits such as "Californication" and the tender "Aeroplane," which Kiedis capably crooned. Mid-show, Klinghoffer threw his guitar down in disgust as technical issues forced a change of instrument and amp. But that didn't deter the hard-driving set.
The energy level in the arena soared as the band launched into a cover of Stevie Wonder's "Higher Ground." The set concluded with riveting renditions of "Under the Bridge" and "By the Way."
Klinghoffer began the encore by singing a few riffs from the Randy Newman track "Burn On," a song that references the burning of the Cuyahoga River. The encore would conclude with a fierce rendition of "Give It Away" that came complete with a trippy animated video.
Inducted into the Rock Hall in 2012, the Chili Peppers appear to be at the top of their game. Both Flea and Kiedis, who would be shirtless by the show's end, appear physically fit. Though he doesn't whip his long hair in the air now that it's cut short, Kiedis still performed with plenty of energy, and Flea even walked on his hands as he returned to the stage for the encore.
Between songs, the guys would unleash jazzy jams that showed off their musicianship. Multi-instrumentalist Nate Walcott, who huddled at the rear of the stage, capably shifted from piano to keyboards and trumpet throughout the show. Both he and percussionist and keyboardist Chris Warren added texture to the songs and nicely complemented the band.