The Davis Besse Nuclear Power Plant
Nuclear power is walking an uncertain path in Ohio these days, even despite a
state bill that would prop up
both the Davis-Besse and Perry plants along the shore of Lake Erie. With an increasing need to rely on renewable forms of energy in Ohio and elsewhere, a vocal contingent of environmental observers has taken to the private sector in search of a savior for nuclear.
A group of "concerned citizens, scientists, business leaders, conservationists, and community leaders"
sent a letter
to Amazon CEO Jeff Bezos earlier this month, pleading for his involvement in saving the facilities and securing an economically viable future for nuclear power in Ohio.
Amazon, of course, has lately
planted
a firm
footprint
in Ohio's retail and tech landscape. The letter's authors point to Bezos' "commitment to clean energy and job creation in Ohio" as a good prerequisite for the challenge ahead. The CEO has a history of
supporting investments in nuclear fusion
.
In essence, the letter encourages Bezos to include nuclear power in his company's definition of renewable energy, opening the door to a possible business relationship between FirstEnergy and Amazon for future energy consumption at the retail giant's Buckeye State facilities. (Note that FirstEnergy has
signaled intent to sell the plants
, but the running scuttlebutt is that both may continue to operate under new ownership.)
Ohio's renewable energy standards were
recently unfrozen
, though there is yet another bill in the Statehouse that proposes to
do away with the mandates
altogether. Nuclear power is not included in the state's renewable energy portfolio, the guiding document behind the standards. The move toward renewable investment is an ongoing debate in state and local government here.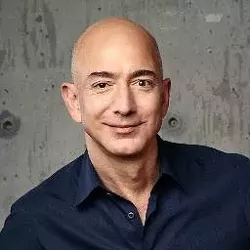 Amazon, though, has joined other major companies in Ohio on the absolute vanguard of renewable energy adoption. It claims 100-percent renewable sources in its data and fulfillment centers. That trend, in turn, has helped privately and publicly fund wind and solar energy installations across the state. The authors of the Bezos letter, however, insist that wind and solar pale in comparison to the immediate output of these two nuclear power plants. The infrastructure is already there, the authors write, and it's at risk of disappearing without further private investment or subsidies (or, in the words of critics, a public "bailout").
(Update: Shortly after publication, the Public Utilities Commission of Ohio suspended hearings on the state subsidy proposal.)
Statewide, nuclear provides 14 percent of electricity generation in Ohio to wind and solar and hydropower's 2.2 percent. The authors here argue that losing the nuclear plants would result in a dramatic increase in non-renewable energy sources, leading to more of the same Southeast Ohio natural gas drilling phenomenon that's causing
its own brand
of
environmental problems
.
It's a quandary worthy of public debate, and the timing of this letter reminds Ohioans that the energy and tech industries are intrinsically intertwined — and ultimately extremely important in the context of how state legislators draft policy going forward. Amazon's economic clout could serve as a bellwether for how Ohio moves on the energy front. (The company has not yet responded publicly to the letter.)