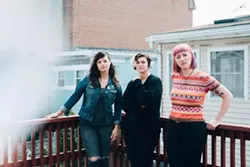 FRIDAY, MAY 26

Cayetana/Diet Cig/Petal/Slingshot Dakota
Lo-fi rockers Cayetana had just begun playing their instruments when they decided to form a band, but the three friends from Philadelphia have quickly made their mark in the city's rich punk scene. Cayetana struck a chord with their debut LP, 2014's
Nervous Like Me
, a 30-minute album bringing lush, driving, distorted sonic landscape that balances catchy melodies and spacious drums. Singer Augustana Koch and her earnest, rebellious vocals are the group's highlight. Koch can angle a simultaneously traditional punk style and almost country twang to her vocals that is powerful and singular — check out "Serious Things Are Stupid" for a taste. Cayetana is touring their second album, New Kind of Normal, which dropped just a few weeks ago. It follows their lead single "Mesa," a beautifully written jam that skews softer, but begs to be sung and danced along to. (Lawrence Neil), 7:30 p.m., $14 ADV, $16 DOS.
Mahall's 20 Lanes
.
Into the Blue Grateful Dead Revival
Regardless of your take on the Grateful Dead, the band to which Into the Blue, an ensemble of local musicians pays tribute, the group maintains a damn important stature in the rock 'n' roll canon. Into the Blue revives that spirit and lends it the respect Jerry and Co. rightfully deserve. Anyone interesting in hearing — and seeing — great music flow from the stage should check out what these guys are doing. Fellow musicians and artists will glean inspiration. (Eric Sandy), 9 p.m., $12.
Beachland Ballroom
.
SATURDAY, MAY 27

Future/Migos/Tory Lanez/Zooey Dollaz
The most anticipated hip-hop tour of the summer lands at Blossom Music Center tonight. Rap kingpin Future joins forces with mischievous, trendsetting trio Migos, versatile rapper and singer Tory Lanez, and Haitian-born labelmate Zoey Dollaz for a trap-infused fiesta down in Summit County. The trio of acts at the top — Future, Migos, and Tory Lanez — cut a wide swath in rap's collective cultural influence, flourishing into bonafide superstars over the last five years and shining bright in 2017's limelight. Hit after hit, chart-topping album after chart-topping album, Grammy nom after Grammy nom, these hip-hop icons have pushed their innovative sounds and styles into the mainstream. (Neil) 7 p.m., $52.60-$89.50.
Blossom
.
Mushroomhead/The Browning/Sunflower Dead/Relicseed
When the local metal act Mushroomhead first formed in 1993, few critics imagined the group would still be going at it in 2014. And yet the masked band continues to be popular. Recorded at the band's studio in North Royalton and mixed by long-time collaborator Bill Korecky, the band's most recent album, 2014's
The Righteous & the Butterfly
, is arguably its most polished effort to date. Album opener "Our Apologies" features parched vocals and industrial beats as it recalls nu-metal acts such as Korn and White Zombie. Even slower tunes such as "How Many Times" and "Portraits of the Poor" possess a real intensity that should translate live. (Niesel), 6 p.m., $24 ADV, $28 DOS.
Agora Ballroom
.
Red Wanting Blue/Sam Goodwill
With another two-night New Year's Eve stand in Cleveland receding into the recent past, Red Wanting Blue returns to the Northeast Ohio area for tonight's show. The band has fulfilled its three-album deal with Fanatic Records back in 2014 — assembling a mighty trio of rock 'n' roll — and now they're packing up the car and hitting the indie circuit again. The past soul-searching year brought excellent results, from the sound of it. RWB has been a band of best friends for years, but the all-in creative exploration that went into their upcoming album seems to have redefined what they're doing here in the first place. "We all said that we didn't want to record any songs on this record unless it was 100-percent unanimous — unless everybody loved the songs," Terry says. "It's the greatest collective effort we have ever made." Watch out for some new tunes tonight, and, of course, the classics. (Sandy), 8 p.m., $25.
The Kent Stage
.
SUNDAY, MAY 28

Carl Palmer's ELP Legacy
Back in the '70s, Emerson, Lake and Palmer emerged as one of prog rock's most popular acts. The band split up in 1998 (and keyboardist Keith Emerson died earlier this year), but drummer Carl Palmer continues to tour and record. In the midst of a tour that finds him paying tribute to ELP, he brings his Carl Palmer's ELP LEGACY – Remembering Keith And the Music of Emerson Lake & Palmer to the Kent Stage tonight. Expect to hear the ELP hit "Lucky Man" along with renditions of classic compositions by the likes of Aaron Copland and Béla Bartók. (Niesel), 8 p.m., $27 ADV, $35 DOS.
The Kent Stage
.