There's not a ton left from the old Steelman Building, a former machine shop at the corner of Detroit Avenue and W. 29th, after partners Brent Zimmerman and Eric Anderson finished building out
Saucy Brew Works
, a 14,000-square-foot brewery in Ohio City's Hingetown neighborhood.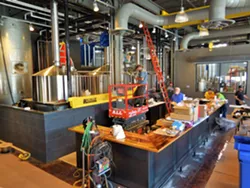 "The concrete floors, center posts and the cranes are original," Anderson explains during a walk-through of the modern-industrial space, which opens to the public July 5.
Last year, Anderson left his post as lead brewer for Tremont Tap House and Butcher and the Brewer to officially begin this journey, which already had been one year in the planning stages. The glass-wrapped two-story building features an airy main space with a bar, behind which sits the majestic German-built brewhouse. A mezzanine offers lounge and private seating with overhead views of the action. A 100-foot sidewalk patio soon will be finished with a railing and awning.
All told, Saucy Brew Works can accommodate 175 guests.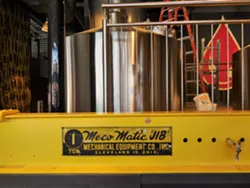 Anderson describes his new concept as "a self-serve brewery and pizza place." There are no servers. Instead, guests go up to the bar (or food counter) to place their orders. When it's ready for pick-up, they'll receive a text message.
The concise menu is designed around New Haven-style pizza (or apizza), which starts with slowly fermented housemade doughs that are topped and dropped into a unique pizza oven that utilizes a baking stone conveyor system that cooks from above and below. In about three minutes you've got thin, crispy, chewy and slightly charred pies.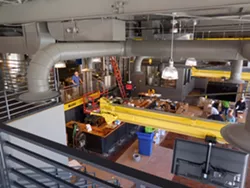 Diners fill out a paper chit to select one of a dozen predesigned pies, or they can build their own from a list of sauces, cheeses, veggies and meats. Also on the menu are a few salads, burrata and bread, meatballs in sauce, and garlic bread.
Anderson prefers to focus his attention on the brewery side of the equation, working from his high-tech command center above the bar. Every aspect of production can be controlled from the touchscreen of his 20-hectolitre (approximately 17-barrel) BrauKon brewhouse. Once a beer style is programmed in, the computer controls everything from the malt transfer to hop addition and even cooling and aeration of the wort. In place of plastic or vinyl hoses, tubing and lines, every inch of the system relies on stainless piping.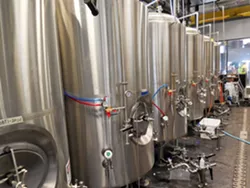 "The result is very consistent, very clean beer," Anderson explains.
Even the draft lines that run from the brite tanks to the tap handles are 100-percent stainless.
"They're easier to clean, but there's also no flavor transfer from beer to beer this way," he adds. "We put so much emphasis on the quality of the beer and then you shove it through these vinyl lines. I decided to do it right."
Anderson expects to have five or six beers on tap for opening day. They likely will include a hefeweizen, IPA, hoppy brown ale, white stout on nitro, and a Kölsch, which will be served in the tradition style of Cologne: a small tray containing multiple 7-ounce glasses. Saucy will also have a full bar and six draft wines.
With room to expand in the current space, Saucy Brew Works can reach a capacity of 10,000 to 15,000 barrels per year. A high-speed canning line already onsite can crank out 200 cans per minute, so it won't be long before Anderson's beer lands in a bar or on a store shelf near you.
Saucy will be open 11-midnight seven days a week.