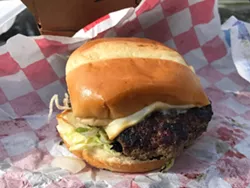 It didn't take long for a new operator to claim the vacant spot that was created when Joseph Zegarac shuttered his popular Chow Chow Kitchen in Lakewood to take his talents over to the Parkview. Within weeks, David Kaplan opened Smokin' Thyme Kitchen (4201 Madison Ave., 216-712-4126, smokinthymekitchen.com).
Like Chow Chow, the new eatery is largely carry-out given the modest size of the space. The entire menu can fit on a small chalkboard, unceremoniously propped up on a chair near the pick-up window. Smokin' Thyme Kitchen offers a few sandwiches and sides, all more than reasonably priced.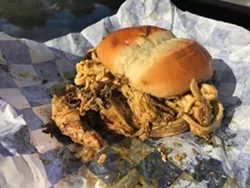 For just $5, a diner can score a meaty burger and a large side of house-cut fries. If you don't want fries, that burger is just $3.50. Toppings like cheese, bacon, lettuce, tomato and onion are included at no additional cost. It's a great value for a mighty tasty meal.
There's also a black bean burger and a pulled turkey sandwich ($6.50/$8.50 with fries) that is messy, plentiful and delicious. The meat is not necessarily smoky but it is tender and piled high in a soft bun and topped with whatever a diner wants. There are eight different sauces to choose from.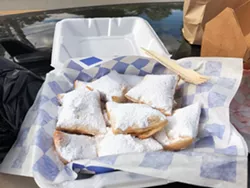 In the sides and snacks department are fun fried foods like beer-battered pickles, hush puppies and mac-and-cheese balls (all $3 or $4). Smokin' Thyme also whips up puffy batches of beignets ($5), here called French Quarter doughnuts, and they come sprinkled with powdered sugar or cinnamon.
Unfortunately, the oil used in the deep fryer was well past its prime and its flavor and aroma negatively affected everything that came out of it during our visit (fries, hush puppies, mac balls, beignets).
Orders placed over the phone are kindly received and timely prepared, so consider calling ahead.