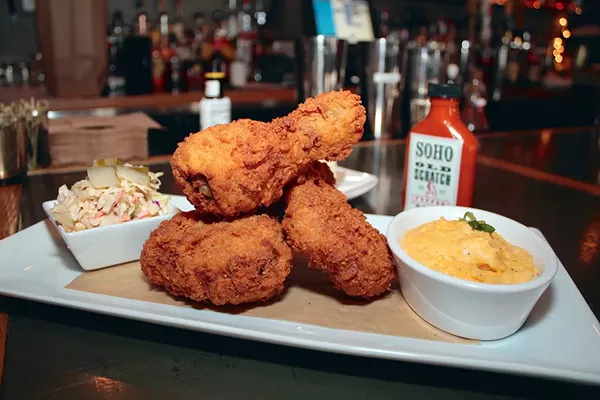 White or dark, batter or breading, mild or spicy: Southern fried chicken is one of our favorite comfort foods. It's a staple, uncomplicated and ridiculously satisfying when done right. There's the crunch, of course, followed by the fatty richness of the skin. Inside, the meat — protected by the crackling shell — is all kinds of juicy.
Not only does fried chicken never go out of fashion, it's one of the hottest foods going, with chefs endlessly toying with recipes and techniques in hopes of building a better bird. From low-rent to high-brow these are without question some of the best places to get your fried chicken fix on.
V's Gourmet
When it comes to fried chicken, being told that there will be a wait is a very good thing. It usually means that the chicken will be fried to order. That's definitely the drill here, where even those wise enough to call ahead end up twiddling their thumbs. But the result is quite possibly the best fried chicken in the city. Diners get to choose among seven different breadings, from the subtly sweet Honey Crisp to the aggressively spiced Cajun. After what seems like forever, the owner of this 15-year-old secret hands over the goods, a breast, thigh and wing shellacked in an armor of flaky, fiercely crunchy batter. The meat, naturally, is screaming hot and dripping with juice. The menu at this wildly decorated take-out shop (there is an Island-themed mural with boats taped to the watery part) is huge, but all we can vouch for is the yardbird.
15418 Lakeshore Blvd., 216-738-7000.
Angie's Soul Café
Angie's always seems to have a nice selection of fried chicken ready and waiting for its mealtime customers. But after more than 25 years in business, they have mastered a technique for holding that doesn't harm the bird in any appreciable way. So, in return for lightning-quick turnaround, the diner nets a platter of still-hot, golden brown Southern-style fried chicken that tastes almost as fresh as just-made. The batter is light and flaky, and lightly seasoned, allowing the clean chicken flavor to shine right through. This is chicken that benefits immeasurably from a good dousing of hot sauce, which Angie's supplies by the gallon.
Multiple locations.
Mama Joyce's
It's easy to disregard this tiny carry-out shop on Lee Road, one of many earth-shatteringly good soul food joints to inhabit this very strip over the years. Many eastsiders likely lament the passing of Momma's Boy, which dispensed a steady stream of hot fried chicken, fries and sauce in plain white boxes affectionately dubbed "Fun in a Box." Mama Joyce's feels a lot like Momma's Boy, but without the white boxes and drunk white boys. The chicken is fried while you wait — even if you've had the common sense to phone ahead. Not only is the fried chicken hot, crisp and juicy, the prices are ridiculous. I walked out the door with 10 pieces of dark meat — five thighs and five drumsticks — for under $10. Granted, the pieces are small, but that usually translates into tender as hell. And that's definitely the case here.
2238 Lee Rd., 216-371-3100.
Greenhouse Tavern
I didn't expect to find some of the best fried chicken that I've tasted in months — and I've tasted buckets of it — at Greenhouse, but there it was. I guess it's not too surprising considering that what these chefs do with chicken wings is nothing short of alchemy, but this wasn't that. This was spicy-ass fried chicken, not unlike what you might find in Nashville, home of "hot chicken." Technically, it's called Barrel-Aged Tabasco Fried Chicken, and it comes anointed with a melting dab of butter. Once you get past the crunch — and dribble of butter — you hit the heat, a fierce and penetrating sensation that lingers long after the meat is gone. Get it by the order ($12) or bucket ($35).
2038 East Fourth St., 216-393-4302,
thegreenhousetavern.com
.
Caribe Bake Shop
On weekends, it seems like every single resident in the Clark-Fulton neighborhood is in this combination carry-out and eat-in market loading up on empanadas, roast pork, rice and beans, pastries and what is very likely Cleveland's best Cubano sandwich. But I go for the pollo frito (and a Cubano), which goes for only a couple bucks a bone. It's not made to order — a good thing considering how long it can take to get a sandwich here. What it loses in crackle from the steam table, it more than makes up for in fatty juiciness. The thin coating is aggressively seasoned — bordering on salty — but this isn't health food to begin with. Wash it all down with a cold Goya Malta beverage.
2906 Fulton Rd., 216-281-8194.
Mahall's
The dirty little secret behind fried chicken too often is the origin of the birds we're consuming. I'm guessing the corner bodega isn't doing its shopping at the North Union Farmers' Market. But Mahall's is using all fresh, never frozen, locally raised poultry, just one of the reasons why the fried chicken at this bowling alley/bar/restaurant/music club has earned a reputation as the best on the west side. The meat is brined, coated in specially seasoned breading, and fried to order. It comes out too hot to eat, but that didn't stop us from attacking it the second it landed on the bar — tongue blisters be damned. Buy it by the piece, trio, or bucket.
13200 Madison Ave., 216-521-3280,
mahalls20lanes.com
.
SOHO Chicken + Whiskey
As a "New Southern" bistro, SOHO was one of the first upscale restaurants to really get behind the fried chicken trend, launching Wednesday Night Chicken Pickin'. The popularity of those a la carte nights spawned multiple regular-menu items built around the bird. Each piece of chicken is brined, double coated in buttermilk and seasoned flour, and fried to order. It's a no-frills, technique- and ingredient-driven formula that results in textbook fried chicken. Each order comes with a mild or spicy boneless breast and thigh and all the fixin's.
1899 W. 25th St., 216-298-9090,
sohocleveland.com
.
A Few Words on Barberton-Style Fried Chicken
Being just 45 minutes away from the "Fried Chicken Capital of America," we'd be remiss if we didn't mention Barberton-style fried chicken. Down there, a handful of longstanding restaurants like Belgrade Gardens, White House Chicken and Hopocan Gardens have been doing things the exact same way for decades. A couple year's back we lost Milich's Village Inn, which closed after 60 years in business (translation: don't wait to get down there if you haven't yet). Barberton-style chicken starts with fresh, never frozen, Ohio Amish-raised birds that are cut up into many pieces, including the back. The meat is lightly salted, dusted with flour, tossed in an egg wash, rolled in bread crumbs, and fried to order in lard — aka pig fat. The copper-colored armor-like crust locks in every last drop of chickeny goodness. Yes, it's worth the drive. Don't forget the "hot sauce," which down here means a stewed tomato and rice dish with Serbian origins.