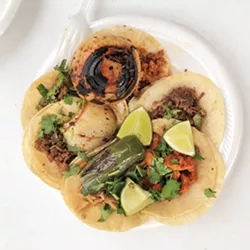 When the invitation to meet for tacos in Painesville arrived, we blindly assumed that we were headed for El Señor's, the fabulous taqueria tucked inside La Mexicana grocery store. When we bothered to actually read the invitation more than halfway into the journey, we learned that we were, in fact, bound for
La Casita
, an altogether different Latin grocery less than a mile away.
When we parked the car and circled around to the side of the building, I couldn't believe the view. Beneath a large canopy was an arrangement of tables and chairs, a portable stainless steel hot line built around a large griddle, and a lengthy garnish table overflowing with colorful accoutrements. When I moved in close enough to see the food on somebody's plate I immediately grew despondent – despondent because it took me so long to visit.
Marcos opened La Casita in 2006 with little more than a tortilla machine, which he used to craft the kind of fresh products he was used to back home in Mexico. He reinvested the money he earned by selling them to residents and restaurant owners back into the shop, refashioning it into a Latin grocery with a butcher shop. Given his experience with family taco stands back home, not to mention his wife's knack for seasonings, a seasonal outdoor eatery made perfect sense.
From spring through fall, the transitory restaurant springs to life on a quiet side street on the edge of town. On weekends, singles, couples and entire families pop in for a delicious and affordable lunch or dinner. Orders are placed at the makeshift checkout counter and delivered to a pair of cooks manning the outdoor kitchen. There's no menu, but you can count on tacos, quesadillas and tortas built around chicken, chorizo, tripe, tongue, al pastor and cabeza (cow head). Prices are $1.75 per taco, $3.50 per torta and $3.50 or $4 for a quesadilla depending on your choice of shell (flour or homemade corn).
When your number is called – often in Spanish – walk up and grab your plate from the cooks. For no extra charge the guys will toss in a roasted onion and/or a well-charred jalapeno pepper. Slide over to the garnish table for a wide selection of crisp, bright and crunchy toppings like cucumber salad, diced onion, radish quarters, chopped fresh cilantro, lime and a variety of salsas. Grab a cold Jarritos soda or water and find a seat at one of the communal picnic tables.
It's not hyperbole to say that the food here is every bit as good as or better than what's found at countless similar spots south of the border. The fresh tortillas combined with the brilliantly seasoned meats and expansive selection of garnishes combine to create an experience as authentic as it gets in this country. That's precisely why Mexican food lovers from as far afield as Lorain, Toledo, Columbus and Pennsylvania make regular pilgrimages to this very spot.
When visiting, pop into the shop to purchase a wide variety of imported products, fresh meats and, of course, the housemade tortillas that started it all.
La Casita's outdoor eatery is open Fridays 4 p.m. to midnight, and Saturdays 9 a.m. to midnight and Sundays 9 a.m. to 11 p.m. (weather permitting).