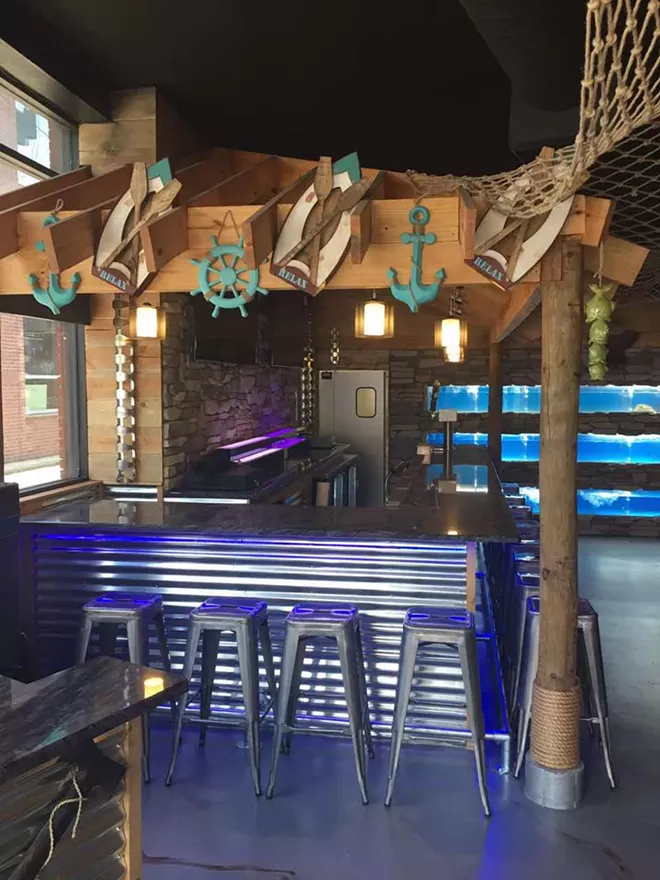 We first revealed Hangchun Zheng's plans to open a seafood-in-a-bag concept on Coventry in Cleveland Heights in late winter, but he's been hard at work transforming the former Winking Lizard space for close to a year. All that work will begin to pay off this Friday evening, when the doors officially open to the public. And when they do, most visitors will be shocked by the transformation into a kitschy, colorful, casual fish shack.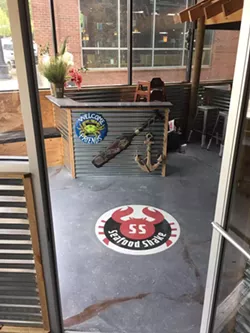 Like Boiling Seafood on Lee Road and Boiler 65 in Gordon Square,
Seafood Shake
(1852 Coventry Rd., 216-417-4830) is modeled after similarly styled shops down south and out west, where seafood (largely shellfish) is boiled in a flavorful broth, tossed in an aggressively seasoned spice mixture, and delivered to the table in clear plastic bags. Diners can pour the contents out onto paper-topped tables or eat straight out of the sack.
Seafood Shake sets itself apart from the crowd thanks to the addition of a three-level fish tank that will be stocked with live lobster, Dungeness crabs and other in-season seafood such as blue crab and crawfish. Lobster, lobster tail, snow crab, King crab, shrimp, crawfish, clams and mussels are ordered by the pound or sold as part of a combination. After choosing the fish, guests pick a seasoning from a list that includes Cajun, Lemon Pepper, Garlic and Ma La Spicy. Next up is the spiciness, which is on a scale from Non-Spicy to Extra Spicy.
Appetizers like raw oysters, fried shrimp and crispy calamari join soups like lobster bisque and New England clam chowder. As is typical of the genre, Cajun entrees like crawfish etouffee join a few non-fish dishes such as chicken wings and fried tenders for the kids.
Seafood Shake opens on Friday July 21 at 5 p.m.