Way back in October we shared the news that
Oak & Embers Tavern
, a three-year-old barbecue joint in Chesterland, would be opening a second location in Hudson (7774 Darrow Rd.). The plan was to be up and smoking by the holidays, but Christmas, Hanukah and New Year's Day all came and went without a single baby back rib. The issue, notes owner Marc Garofoli, was the property, which for 40 years operated as Marcelita's Mexican restaurant.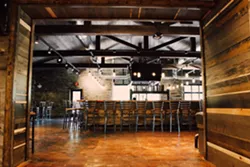 "There's not much of the original structure left," he explains. "It appears that they would put on a new addition to the building as they made a profit. It's pretty much a brand new building from the foundation up."
Over time and over budget, but come the first week of August, Oak and Embers should be open to the public. With construction in the rear-view mirror, the shiny new facility can seat approximately 350 guests inside the airy 8,500-square-foot bar and dining room, plus patio.
Guests can look forward to slow-smoked chicken wings, baby back ribs, beef brisket, pork shoulder and sausages, all of which will be exiting Garofoli's new hickory-fueled Southern Pride smoker, a $40,000 rig.
"I should be able to do about 3,000 pounds a night," he says. "She's a monster."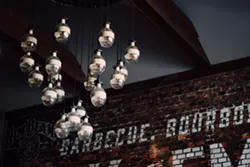 Management says that the menu will be almost identical to the original spot, but will include more kid-friendly meals and sides.
Meanwhile, Garofoli adds, the Chesterland shop (8003 Mayfield Rd., 440-729-4030) continues to exceed his and his wife and partner Gretchen's expectations.
"It's going fantastic," he says.