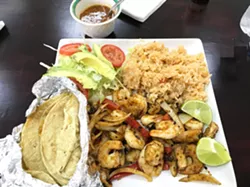 For the past couple years, East Side Mexican food fans have been hitting up a small but bustling Latin carry-out in Bedford Heights called Las Americas. The shop sat in the middle of Perkins Plaza, a dusty-old strip near the I-271 off ramp. Regulars tolerated cramped quarters, a confusing process and strict cash-only policy in return for delicious and affordable tacos, burritos and quesadillas.
A few steps beyond the open kitchen and counter sat a tiny one-aisle Latin foods market crammed with imported ingredients and a wee little dining room outfitted with a handful of seats. And then the place closed its doors in winter with the promise of returning bigger and better in the near future.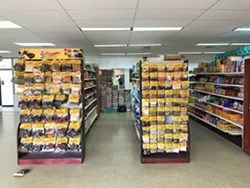 That took place earlier this week when
Las Americas
unveiled its new location, which sits on the back side of the same plaza. (The signs aren't up yet.) Easily 10 times the size, the bright, new and spare space features a greatly expanded Latin foods market with a separate restaurant, accessed via glass doors. The new market sells fresh produce, dried spices, refrigerated tortillas and cheeses, canned and jarred sauces, and even has a butcher counter.
The adjoining eatery has seating for 30 – complete with table service – as well as a counter for quicker carry-out service. Diners will recognize the same menu (and prices) as before. Burritos ($6) are stuffed to the breaking point with chicken, steak or al pastor (pork), rice, beans, cheese and onions. Quesadillas ($5) are filled with the same choices, griddled on a flattop until hot and melted, and served with rice, sour cream and salsa. For the tacos, fresh and steamy corn tortillas are doubled up, overloaded with al pastor, carnitas, chicken or steak, diced white onion and fresh cilantro. They're $1.79 each and come with a side of the most amazing salsa – a smoky, blisteringly spicy red sauce that improves everything it touches.
There are also about 15 large plates such as sautéed shrimp in a spicy tomato-based sauce, whole deep-fried fish, and grilled steak and shrimp with bell peppers. Mains range from $9 to $12, are paired with salad, rice and beans (or an equivalent), and are sized for enormous appetites.
Within a week or so, management promises, they will be equipped to handle credit card purchases. Until then, bring cash.