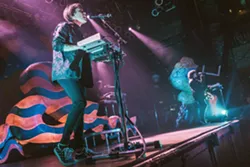 A great writing teacher once told me content that pushes against its form is the secret to great art—like a sad song that makes you want to get up and dance.
He may have taken his cues from Tegan and Sara. The twin sisters from Calgary took the stage last night at a House of Blues that smelled strongly of popcorn. The smell faded (not before drawing comment and an entertaining monologue on drunk flossing from Sara), but the band's energy never did.
You can see a slideshow of photos from the concert
here
.
Since the success of their 2004 album
So Jealous
, Teegan and Sara have been the embodiment of indie-rock cool. The sisters have recorded anthems of longing, protested for LGBTQ rights (they openly identified as queer since starting their career in the '90s), and all the while rocked perfect haircuts. Released in 2013,
Heartthrob
marked a turning point for them: a leap into the mainstream. It channeled the introspection and melancholy of their previous albums into synth-driven, stadium-ready pop.
That album's '80s-throwback theme dominated the performance last night. After opener Japanese Breakfast (whom Tegan and Sarah plugged repeatedly and with more enthusiasm than your correspondent has ever seen from a headlining act) played an endearing set, the twins took the stage against a fabulously retro neon-printed backdrop. They played between what I believe to be an inflatable, Grumpy Cat-shaped "T" and a sprinkle donut-shaped "S," which enhanced the bouncy vibe of the band's more recent material.
All songs, when it comes down to it, are either love songs or breakup songs. Tegan and Sara have always had a knack for making breakup songs that sound at least a little like love songs—happy form, sad content. Heartthrob's up-tempo kiss-offs and torch songs took up most of the first half of the set, with some songs from
Love You to Death
, that album's fun but somewhat disappointing sequel, bringing some fun later in the evening.
Their roots are in emotional indie rock, however, and they did not forget them. The loudest applause from fans came at about the halfway point, when the backing band faded into the background and the sisters went acoustic to play songs from their 2007 album
The Con
. Other beloved T&S classics like "Back in Your Head" and "Walking With a Ghost" got played as lightly danced-up versions of themselves.
Throughout it all, the Sisters Quin moved with power and fluidity on stage, trading off songs and dance moves effortlessly. Their banter between songs was playful and self-deprecating. You want to be friends with them, though you know they're too cool. What you're left with are the songs: perfect for the next breakup in your life, and maybe even for the next great love.