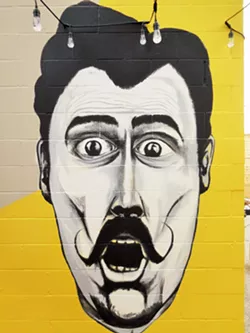 "We're almost done," says Juan Vergara. "We're really, really happy with how things turned out."
Back in May, we reported that Vergara was planning to open an east-side location of his popular Colombian-themed restaurant
Barroco Arepa Bar
(12906 Madison Ave., 216-221-8127), which has been going strong in Lakewood since 2011. Since taking possession in June of the space on Larchmere (12718 Larchmere Blvd.), formerly home to Jezebel's Bayou, Menu 6 and Boulevard Blue, the artistically minded owner has been busy readying the spot for opening day. That day, he reports, will be Monday, August 21.
"As a small family-owned and operated business, it was amazing to find a restaurant that was pretty much ready to go after we put our spin on it," Vergara says. "One of the biggest challenges here was to make everything look as close as possible to Barroco in Lakewood so people will have the same experience. The restaurants that used to be here tried to be a little more upscale, but that's not our thing."
The dining room carpet was replaced with turquoise-washed wood floors. Dark woods warmed up the aggressively contemporary space. Original art, bold colors and whimsical details – with more yet to come – all combine to help give the restaurant a signature look and feel that is consistent with the Lakewood shop. Guests are encouraged to add their own touches in the form of "graffiti" that will add life to bare walls.
Come mealtime, diners will experience the same food, the same prices, the same plates and even the same tables and chairs. Over the years, Vergara and his father, Carlos, have greatly expanded the menu beyond those habit-forming arepas to include a wide range of Pan-Latin offerings. Approximately 140 guests will find seats at the bar, in the dining room, and on the new art-filled patio carved out of a parking lot.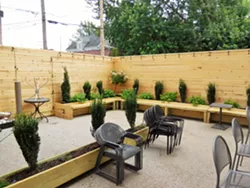 "We're fortunate to be doing good enough in Lakewood that we were able to spend some money on building a patio," says Vergara, who has done much of the heavy lifting himself. "I like doing a lot of the work myself because it makes me appreciate it more. When you do it all yourself, you put more love into it."
As in Lakewood, the owner has carved out a nice corner to host live music, which will be presented three nights a week.
"We do a lot of music out in Lakewood," he says. "I'm fortunate to know a lot of really great bands that play music like romantic Spanish guitar, Brazilian, Cuban… It's gotta fit with our theme."
Unlike Lakewood, Vergara plans to launch a unique Latin-themed Saturday and Sunday brunch service.
Vergara says that for years customers have been begging him to open up an east-side location to spare them the cross-town trip. When he stumbled upon the Larchmere building, he knew it was the right move to make next.
"Every time we open a new business I get a little nervous, but here I'm mostly just excited because we've done it all before," he explains. "I think we're going to be a really good fit here. I have a good feeling that we're right for the neighborhood."