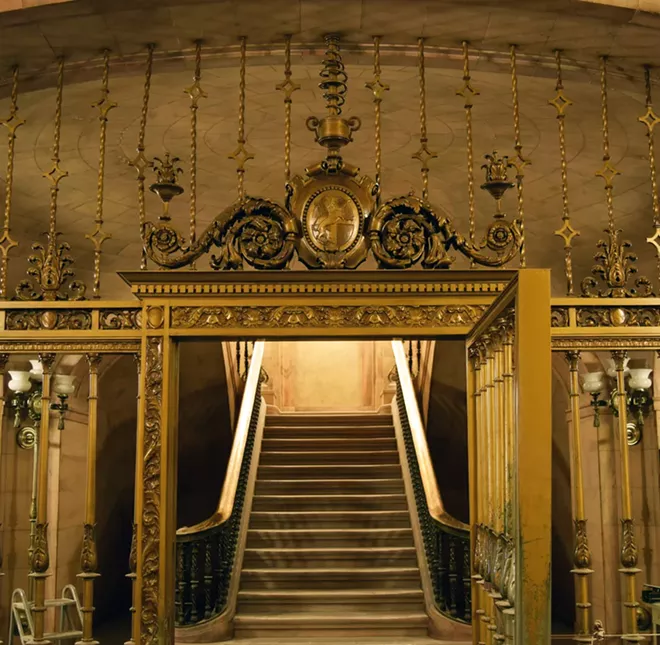 Update: Just a quick note to mention that the opening day for Marble Room, the glitzy steak and seafood restaurant situated in the old National City Bank is here and you should absolutely go. They'll be open for dinner today and begin lunch service tomorrow. More details in our original preview below.
***
(Original story 8/23/17): We've been following the progress of Marble Room, the high-end steak and seafood restaurant from the owners of Lockkeepers, since we first walked through the incredible space. The dramatic restaurant has been quietly taking shape since last fall inside the historic bank lobby of the Garfield Building at E. Sixth and Euclid, which most recently was home to National City Bank.
When it opens on September 5th,
Marble Room Steak and Raw Bar
(623 Euclid Ave., 216) 523-7000) will immediately jump to the front of the line in terms of Cleveland's most impressive dining rooms. The immaculately preserved interior boasts 40-foot ceilings, weighty columns, ornate chandeliers and storybook staircases.
"We want Clevelanders and visitors to our city to enjoy the magnificent space we have restored and indulge in a one-of-a-kind dining concept marrying history and modern cuisine with professional, gracious service," explains Malisse Sinito, Marble Room owner and President of Millennia Hospitality Group, which owns the property. "It was a remarkable undertaking, but a labor of love as my family is from Cleveland and we want to give the city another reason to be proud."
The menu will blend traditional steakhouse fare like prime steaks and seafood with a raw bar and sushi menu. Chefs Brandon Veres, Kyle Anderson and Jango Enkhtaivan will oversee the expansive savory offerings while pastry chef Dwight Penney will be in charge of the housemade ice cream, pastries and breads.
The restaurant will open for dinner service on Tuesday September 5, and lunch service will begin the following day.