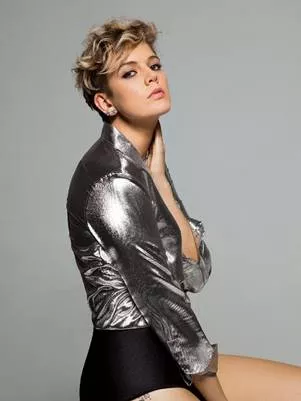 When she was "really young," pop singer Jessica Anne Newham wrote a song called "Betty Who." When she was older, she played it so much and was listening to it so much that she decided to make it her stage name.
"I made a Facebook page right then and there," says Newham, who now tours and records as Betty Who. She brings her tour in support of her '80s-influenced new album,
The Valley
, to the Beachland Ballroom on Friday, Sept. 1.
The Australian-born singer originally studied cello as a child and thought classical music might be her calling.
"I went to school for cello and that's where I first got my kick into doing this and loving music and wanting to pursue it as a professional," she says.
She started writing songs when she was 14. After attending a summer program at Berklee College of Music while she was still in high school, she realized she preferred singing and songwriting to playing the cello.
"I got such positive feedback from my teachers and friends," she says. "They said I was really good at that. I didn't know it. That's what set me on the path."
Betty Who, who went on to attend Berklee in the wake of that summer program, met producer Peter Thomas, who was also attending Berklee. The two began writing and recording songs together. Her career quickly took off from there.
One of her first songs, "Somebody Loves You," would become a hit. The clubby tune commences with stuttering synthesizers before Betty Who's sultry vocals kick in.
"I made that song in the basement of my producer's parents' house in Rhode Island," she says. "It's hard to imagine taking something like that that was so intimate and having it become a hit on the radio. It was my friend Peter [Thomas] who I have to thank. I have no idea why it connected with listeners. There's no formula to it. I can't tell you what works and what doesn't. I think the viral video had a lot to do with it and obviously set it off and helped the song. I don't know what made that happen or what made people like it."
For her full-length debut, 2014's
Take Me When You Go
, she cobbled together singles and songs from her various EPs. The album's glistening pop tunes possess a real retro feel.
"My first record is a mix between a group of songs I had put out on my EPs and music I wrote specifically for the record," she says. "By the time I was making the album, I had so much material that was out that it felt really easy and organic. It was not the beginning of a chapter but the end of it.
With
The Valley
, she had to "start fresh," something she says was "both exciting and terrifying."
"It took me six months to get my shit together and figure out the kind of artist I was wanted to present myself as," she explains. "I really wanted to make a record that made people dance. That was the No. 1 requirement. I wanted it to be a dance record from start to finish — you can play it as a pre-game soundtrack or put it on a workout playlist. More importantly, when you come to the show, you can let go and dance. I dance a lot in the shows. That was a big piece of making the record. I had to make music that connected with that and feels like Britney Spears or Beyonce or N'Sync. That was my only criteria."
An a cappella tune with gospel undertones, the opening title track gives the album a certain kind of poignancy and provides a moment of calm before the dance party begins.
"That was the last song I wrote for the record," Betty Who says of the title track. "All the other songs were finished. I told my manager I wasn't done yet until I had the intro. He told me I had to do it quickly or the record would be pressed. I sat down and locked myself in a room for I can't tell you how long. It was a long time. I wanted to write something I had done on my own. The rest of the record is co-written with some of my amazing friends and artists. I felt like there was a little piece of just me that was missing. I knew I wanted to do a cappella."
The giddy, provocative "Mama Say" serves a tribute to old school Britney Spears.
"I did that on purpose," she says of the nod to Spears. "She's one of my favorite pop stars and humans in the world. The Britney Spears I grew up with is one of the number one reasons I wanted to do this. I wanted to write a song that sounds like Britney Spears in 2001 but could be something she did today."
A cover of the Donna Lewis tune "I Love You Always Forever" shows just how well Betty Who can sing. Her voice really resonates and sounds more soulful than it does on the album's other tracks.
"It was the 21st anniversary of that song," she says when asked about why she chose to cover it. "It's almost as old as I am. It's the kind of song that you say you don't know but once you hear it, you go, 'I know this song.' I think it's hard to find a song to cover that hasn't been done before or doesn't feel overdone. I don't like doing covers because of that. I felt like I didn't remember any of the words to the verses but I remembered the choruses. So we re-wrote some verses but kept the chorus. Peter [Thomas] helped that song come out the way it does. I did a demo vocal at his house, and there was no music. Next thing I knew, it was finished."
She likens to working with different producers as "a speed dating type of thing" but says it ultimately ensured she turned in her best performances.
As someone who promotes diversity and regularly performs at gay pride events, Betty Who is clearly troubled by the current political climate.
"You know, this is a tough thing for me to talk about and deal with," she says. "I've never been good at getting people angry or motivated. That's not my gift as a human being. I'm better at getting people to come together. I'm uncomfortable with what's going on. I feel really helpless. I think a lot of people feel that way. Because I feel confused, I try to bring joy to people and bring light where there is darkness. I want to make music that makes people feel happy instead of scared. We're all really scared. I want to bring more light to a scary time."
Betty Who, Geographer, Jackson Harris, 8:30 p.m. Friday, Sept. 1, Beachland Ballroom, 15711 Waterloo Rd., 216-383-1124. Tickets: $16-$199, beachlandballroom.com.