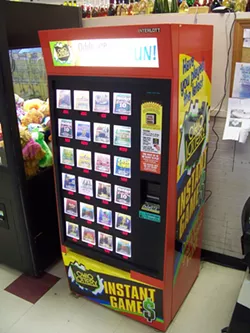 Ohio will soon be the first state to allow credit card lottery ticket purchases at self-service vending machines, the Ohio State Lottery announced.
Nearly 6,000 Lottery ticket machines are currently being equipped with the new technology, which will allow folks to gamble with cash, debit and credit cards and e-wallet payments.
"It's a changing consumer trend. More and more consumers aren't carrying cash," Ohio Lottery Communications Director Danielle Frizzi-Babb
told
Fox 8 Cleveland.
While some experts have expressed concern over the change, saying the convenience could lead to more complications for those 170,000-some gambling addicts currently living in the state, the Ohio Lottery says it plans to combat that issue by limiting daily spending to $100 per card.
The ticket machine change begins October 29. Ohio Lottery hopes to offer a cashless ticket option for all purchases, including behind-the-counter purchases, by next summer.