On September 21, the last shots of Jameson Irish Whiskey were poured, pondered and consumed at
Parnell's Pub
on Lee Road, which began life 20 years ago as the Charles Stewart Parnell's Pub. Over the years, owner Declan Synnott has expanded, remodeled and contracted the bar, a fixture that sat shoulder to shoulder with the Cedar Lee Theatre since 1997. But the time had come, he says, to make a move.
For the past couple months, Synnott and his wife Liz have been renovating the former Ten Thousand Villages space on Cedar, two doors down from Vero pizza in the Cedar-Fairmount neighborhood of Cleveland Heights, into a polished little Irish pub.
"It's like Lee Road and downtown mated and popped this one out," Synnott jokes, referring to the organic blend of old and new that borrows some design touches from the newer downtown location. "But it still has the feel of the old Parnell's."
The new spot (12425 Cedar Rd., 216-321-3469), which opens its doors to the public for the first time tonight at 5 p.m., is slightly larger at 1,000 square feet, but its retains the intimate feel of the long-running pub. Occupancy inches up to 54 from 36, with more seating at tables, along the bar, and in a semi-private back room outfitted with a TV and dart board.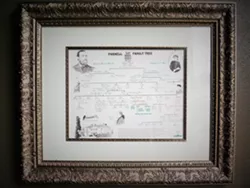 Regulars will recognize many details from the old spot, including the etched foyer window, backbar and bartop itself. But there are more touching ephemera as well, such as black-and-white family photos, pictures of the old homestead in County Meath, and weighing scales from Synnott's great-great-grandmother's grocery store.
"My wife's idea to personalize the place," Synnott clarifies.
The backbar is heavy with whiskies, while the taps dispense and endless stream of Guinness, Harp, Smithwick's and hard cider. Craft beer nerds actually will find a smaller number of choices here as opposed to up the road, the owner points out.
"We're actually trimming the number of taps so that the beer is always fresh; it's quality of product, not the number that you have," he says. "We're going back to our roots and focusing on what works."
As for snacks, barflies will have the same few choices of bagged chips, wrinkled smokies and the proverbial can of soup.
Synnott seems genuinely excited about his pub's new home, but he'd be lying if he claimed that the present situation wasn't a wee bit bittersweet.
"I was just up there handing over my keys to the landlord," he relates. "It was tough. It was tough. A lot of history, a lot of memories – good memories, bad memories – but it was time for a change."