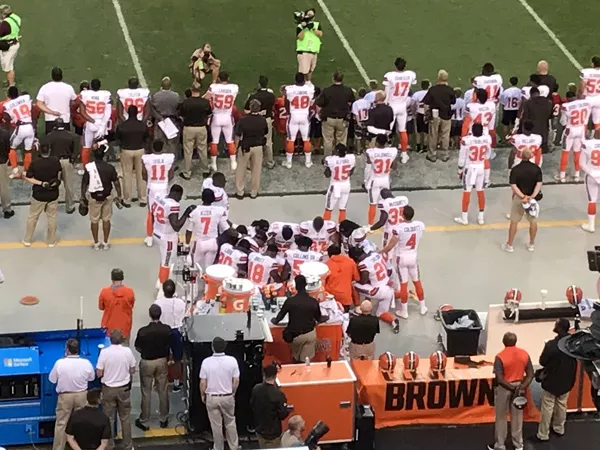 American Legion Post 118 in Amherst recently joined a smattering of veterans' organizations and VFWs in announcing they won't be showing NFL games as a boycott against players who have engaged in various forms of protest during the national anthem to bring attention to social and criminal injustice against minorities. Polls show
favorability toward the NFL among Republicans
and veterans has slid in the wake of the protests, and more so after President Trump began tweetsharting about the issue.
So boycotts of the boycotts have become news with easy headlines, made for ready-click Facebook sharing, like "Local VFW Stops Showing Browns Games." Which, while technically accurate, shelves nuance and discussion to the backroom (read: comment sections). It's easy, then, to imagine a squadron of vets all sitting in front of blank TVs (or maybe they're watching bowling or Fox News, who knows) muttering in unison about the disrespect being shown by black NFL players who silently protest while reiterating at every available opportunity that they mean no such disrespect to those who've served and died for our country. There is no such unanimous opinion, inside the American Legion or out, and
the Chronicle-Telegram
has some illustrative details in a story on the American Legion Post 118's decision not to show games.
More than a thousand stop by the post, to begin with, and the vote to boycott the NFL was only attended by 30 or so people, not all of whom were in favor of the idea. Still, it passed and Post 118 Commander John Kocak told the paper that, among other things, he's worried for how it makes them look. His thoughts, logical and well thought out from many sides of the debate, are below:
"The reason I want to show the NFL games is I served my country proudly for six years in the Navy, and I fought for the right for them to protest," Kocak said. "I fought for the freedom of speech, and it's their right to protest. Now, I don't condone what they do, but they still have that right to protest during the national anthem."

"It's not everybody at that post that feels that way," he said. "It's a few select people that brought it to the meeting. There were 30 people in that meeting that voted, and not all of them voted to boycott."

"It kind of makes our post look like we're a bunch of racists," he said. "It's not that at all, and it's not the feeling of the whole club. We have 1,200 people that attend our post. There were only 30 people at the meeting, and 20 of them voted for the boycott."

"I don't like them using it with the flag or the national anthem as the forum," Kocak said. "I wish they'd get with the NFL and put your money where your mouth is and bring awareness in another way. Get with the cops and start up projects within the inner city.

"But I don't live in the inner city, and I don't know what they've gone through."