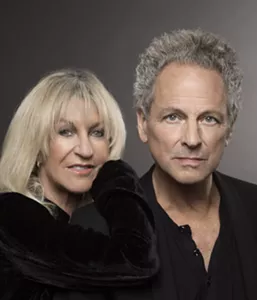 The past few years have been full of unexpected developments for Fleetwood Mac's Christine McVie. After 15 years away from the legendary group, McVie found herself coming out of retirement — at least for one night — when she jammed with the Mick Fleetwood Blues Band at a show in Maui in February of 2013. It was a moment that was a real thrill for both sides.
"It was fantastic. I think they wanted me to, but they didn't dare ask me. I mean, I hadn't really performed in all of that time that I'd taken away," the keyboardist/vocalist recalls during a recent phone conversation. "I thought, 'Well, you know what, this might be quite fun to just go on and do a couple of blues songs.' I mentioned it to Mick and they went, 'Oh my God, of course! We would love it!'"
A piano arrived in her hotel room in short order and after a bit of practice, she found herself on stage with Fleetwood and his band for a brief set that quickly made her realize that she had been missing the experience of playing live more than she realized.
"I thought, my God, what have I started here? It wasn't long after that when I mentioned to Mick, 'How would everybody feel if I was to ask to come back?' Of course, the rest is history and everybody loved it, and I loved it," she says now. "We all just kind of got on as if I'd never left, really."
Later that same year, McVie was back onstage with the entire Fleetwood Mac gang, a precursor to a full-blown reunion tour, appropriately entitled "On With the Show." But before the group hit the road, McVie found herself in the studio with Mac guitarist Lindsey Buckingham.
"Originally, we hadn't planned on making an album, we were just going to cut some demos of mine, just to familiarize myself with Lindsey again primarily and the idea of working together, before we went to rehearsal for the tour. This all evolved about a year later when we went back to those songs. I think we kept about five or six tracks.
Even after being on the road for more than a year, Buckingham and McVie continued to think about the initial recordings that they had put down, with the feeling that there might be something there worth continuing to explore.
"When we went back and listened to them, I thought, 'Well, these are really good.' Then Lindsey and I, we talked about it and thought, 'Why don't we finish this as a duet album?'"
Never at a loss for material, the prolific Buckingham brought out some more recordings that he had been working on a few years earlier with producer Mitchell Froom, which featured Fleetwood behind the kit and Mac bassist John McVie also in his usual slot. They worked on the combined pool of songs, with both McVie and Fleetwood returning as the rhythm section. On paper, it was awfully close to a Fleetwood Mac album — but Stevie Nicks was away, focused on her own touring and by all accounts, there wasn't much deliberation — Buckingham and McVie quickly decided to stay the course and just focus on finishing out the collaboration as a duets album.
Buckingham McVie
, the album that emerged out of their efforts, is one that Fleetwood Mac fans will find feels like a true collaboration, with the pair trading off lead vocals from song to song, yet it's clear that they worked hard together to flesh out each other's ideas to carry them beyond being merely songs that could have just as easily been on solo albums. In one instance, McVie had a set of lyrics that she had been carrying around that had been inspired by a trip to Africa. On the beach, she had written the words, "When the red sun kisses the sea."
Years later, there was Buckingham in the studio with a sequence of chord changes and a melody he wasn't planning to use. McVie saw the beginnings of a potential song and "Red Sun," one of the standouts on the new album, was born. That's one thing which has been exciting about the arrival of this album — the extended opportunity it provided for Buckingham and McVie to write together, something which hadn't happened a lot in the history of Fleetwood Mac, although as McVie points out, their collaboration has roots which go really deep into the DNA of the group.
"That's true to say, we haven't really written that many songs together, but we worked quite intimately together in the studio musically," says McVie. "Because we are the only two musicians in the sense that we play chords. It's not like being a bass player or a drummer, so it's really down to me and Lindsey, how the songs are voiced in that sense. So we'd always worked well together and we always seemed to be able to predict what the other one's going to play. You know, we see each other across the studio and we sense where the other one is going, if you know what I mean. So we've always been good at that. I suppose it flows on quite naturally from there to actually write songs with him, which has been really satisfying."
One can wonder if the studio dynamic was extraordinarily different compared to how the sessions might go down if they were working on a Fleetwood Mac album. McVie says that there were a number of similarities.
"I think that Mick always has a lot of input on the records. John to a less degree. You know, he pops in and he listens and puts on his beautiful bass parts and doesn't really like to hang around the studio very much," she explains. "He gets antsy and impatient. But Mick hangs around all of the time and he always has great input. And in a Fleetwood Mac album, Stevie to the same degree, really. She comes in and does her vocals and stays a while, but she doesn't really...I mean, I'm a studio junkie, so is Lindsey, so is Mick, really. We're quite happy in there, for hours and hours on end. You know, some people just don't like to sing the same song over and over again, I suppose. That's what you have to do when you make a record!"
Earlier this summer, Buckingham and McVie hit the road for a series of show which found them playing smaller and more intimate venues than they normally would with Fleetwood Mac. The shows began with an initial set featuring just the two of them, and that added to the intimate feeling. It was a joyous moment for fans, but one that McVie admits was challenging for her personally.
"Yeah, I think that probably scares me more than anything," she laughs. "I heave a sigh of relief when the band comes on. I think it's a lovely way to start, but you're just terribly exposed. It's something that I've never done before, and as it turns out, the set goes so quickly I can't believe it."
Back on the road for another run of dates which will bring them to the Cleveland area for a show at
Hard Rock Live
on Friday, Nov. 3, McVie says the chances are really good that there might be a sequel to their album, which has been well-received, indicating that Buckingham in particular is keen to continue the collaboration and record more material.
"Yeah, I think that's for sure. I think Lindsey actually announced that on stage without me even knowing it," she says, chuckling. "I'm paraphrasing, but he said something like, 'Well, we're having so much fun on the road, we should do this all again, what do you think, Chris?' So yes, I think it's quite possible."
First, there are plans on the table for a Fleetwood Mac tour in 2018 to celebrate the 50th anniversary of the group — Fleetwood has already been promoting his new book,
Love That Burns
, which chronicles the Peter Green era of the band. McVie, who joined in 1970, calls it "staggering," looking at the early photos and realizing that it's been 50 years since it all began.
"You look at the photos and it doesn't seem like 50 years, not to me anyway," she says.
She says it feels premature to label the upcoming trek as a farewell tour, which has been rumored.
"I don't know who dreamt that up, but it's not really. I mean, the reality of the fact is that none of us are spring chickens," she says. "But as far as we're concerned, it's just another tour. You just have to do it one at a time when you get to our age. I think farewell tour, I don't think it's good to say farewell. It isn't to us, anyway."
Lindsey Buckingham and Christine McVie, 8 p.m. Friday, Nov. 3, Hard Rock Rocksino, 10777 Northfields Rd., Northfield, 330-908-7625. Tickets: $75-$99.50, livenation.com.