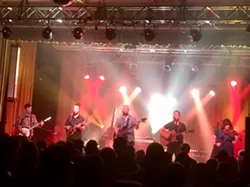 Those who came out to the Beachland Ballroom last night were treated to a dynamic evening of jammy bluegrass improv from the always delightful Yonder Mountain String Band. The band veered from plaintive plucking to strident shredding, and the crowd engaged them in laid-back hootenanny dancing all night.
First things first: This show will henceforth be known as the Psychedelic Baby Balloon Show, as bassist Ben Kaufmann took a moment early in the set to draw the audience's attention toward an excitable baby sitting on dad's shoulders in the middle of the crowd. The baby — maybe 2 years old-ish? — was holding a few small balloons and just going nuts for the band. As the show grew progressively more psychedelic throughout the night, Kaufmann repeatedly referenced the psychedelic baby balloons bouncing around his sight-lines.
"Three cheers for psychedelic baby balloons!" he cried at one point, leading the audience in, yes, three cheers for psychedelic baby balloons. "Hip, hip, hooray!"
The whole thing was a funny leitmotif for a show that otherwise took a winding journey through the band's catalog. Covers like "Jolene," "Drown" and "For What It's Worth" filled out a set jammed with new stuff and old, with "Sideshow Blues" joining "Take a Chance on Me" and "Last of the Railroad Men."
The band hadn't been in Cleveland for some time, and Kaufmann pointed out that he was glad that we were "still freaky" (leading him to reference the psychedelic baby balloons again). He then took the band into "40 Miles from Denver," a classic Yonder tune from the early days of fellow founding members Dave Johnston (banjo) and Adam Aijala (guitar). It was fantastic.
But we've gotta say that the MVP awards for the night go to the two (relatively) new members: Allie Kral (fiddle) and Jake Joliff (mandolin). Both musicians were given multiple spotlights to show off their lead chops, and they were downright unbelievable at times. The sheer speed and inventiveness in their solos were just incredible to watch.
My personal favorite moment was "Drown," which I hand't realized Yonder did. But Aijala's voice perfectly channeled the mournful energies of Son Volt's Jay Farrar.
Three cheers for psychedelic baby balloons!