It's been two years since Brian Moss and Brian Holleran purchased a dilapidated brick structure on W. 65th Street in the Detroit Shoreway neighborhood. In approximately two weeks' time, that space will open as
Il Rione Pizzeria
(1303 W. 65th St.).
Over the years the building has been home to a beer hall, pool hall and speakeasy before it was chopped up into apartments. The goal all along has been to retain the authenticity of the building while bringing it back to its days as a valued neighborhood asset.
"By attempting to preserve the old building and keeping it as original as possible, we want to help turn this neighborhood back to what it was 75 years ago, when you had all these old retail spaces," Moss says. "People are building places like Crocker Park to emulate neighborhoods like this."
Most of us are familiar with Cleveland's east-side Little Italy neighborhood, but few of us realize that there was a west side Little Italy as well, densely clustered north of Detroit between W. 65th and 69th streets, Holleran explains.
"The architecture's a little different, the neighbors are a little different, there are one-way streets," he says. "That's the beauty of this place; there's so much character and history. To be able to take something old and make it new is fun."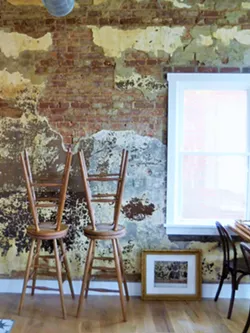 "Rione" roughly translates to neighborhood in Italian.
Inside, drop ceilings were removed to reveal 100-year-old rafters. The plaster-patched brick walls were scrubbed and shellacked but left largely as they were. Large window openings along the façade were reclaimed, making room for glass and sunlight. A roomy wrap-around bar was installed on one side of the dining room while a pair of 1,000-pound deck ovens anchor the open kitchen on the other.
As they see it, Il Rione will be an open, transparent and uncomplicated pizza joint that does a few things and does them well. There will be seating for 40 in the dining room and at the bar. The main focus will be on the pies, "real New York/New Jersey-style pizzas" like those found at places like Spirito's in Elizabeth, New Jersey, and Patsy's Pizza in New York. The 17-inch pies exit Blodgett deck ovens with a crispy bottom and crust enriched with a touch of olive oil. "More like a baguette kind of dough," Holleran explains.
There will be eight house pizzas plus the option to build your own from a modest list of toppings not to exceed eight options. Meat and cheese boards, platters of sausage and peppers, and a few dips and salads will augment the offerings. Down the road, some straightforward pastas might make an appearance.
"We want to make sure that we nail the pizzas first before adding on," says Holleran.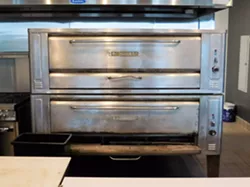 Beer, wines by the glass, and a few good, simple cocktails also will be on offer.
As for the mood, Holleran describes it as "a cross between a café in Milan and a rock-and-roll bar in New York – a dimly-lit pizza joint with Velvet Underground, Wu-Tang Clan and James Brown on the sound system."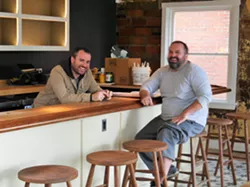 The two have been developing the project for five years, ever since they worked together at Stone Mad across the street, where Moss worked as a chef and Holleran as a barback.
"This was just a stupid-ass dream that we had, but we know what we like and we work really hard," Holleran says. "As soon as our dough is good, we're opening; everything else will eventually fall into place. It's going to be perfect eventually."
When it opens, Il Rione will be dinner-only except for weekends when it opens at 11 a.m.
The building over the years: