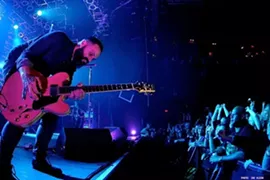 FRIDAY, NOV. 10

Blue October
Led by volatile singer-guitarist Justin Furstenfeld, the alt-rock act Blue October has experienced extreme ups and downs since forming just over 20 years ago. Furstenfeld chronicles that rollercoaster ride in
Crazy Making — The Words and Lyrics of Justin Furstenfeld
, a collection of annotated lyrics for the songs in the band's discography. A couple of years ago, he toured in support of the book and played acoustic shows. Blue October comes to town tonight in support of its eighth studio album,
Home
. (Niesel), 7 p.m., $27-$40.
House of Blues
.
Lucero/Two Cow Garage
When Memphis-based Lucero played House of Blues back in 2012, the band delivered a countrified punk set that struggled to seamlessly incorporate R&B horns. The band, however, satisfied a rowdy group of fans that sang the lyrics to every Springsteen-like anthem, particularly the set-closing "Tears Don't Matter Much." Expect its hardcore followers to be out in full force tonight when the band plays the Beachland. (Niesel), 8:30 p.m., $25.
Beachland Ballroom
.
SATURDAY, NOV. 11

Chris Robinson Brotherhood
There's no other way to describe it: The Chris Robinson Brotherhood is on a tear. After releasing a two-part album in 2016, the band served up a live album and another full-length this year.
Barefoot in the Head
captures the essence of what Robinson's been getting at since starting this project in 2011. It's a lively, engaging record that builds neatly off what they were doing with the two releases last year; stuff like "Narcissus Soaking Wet" and "From the North Garden" certainly teed up the woozy grooves of "Blue Star Woman" and the heady songwriting in "Dog Eat Sun." (Eric Sandy), 8 p.m., $25-$35.
House of Blues
.
Kamasi Washington
Up-and-coming jazz saxophonist Kamasi Washington raised eyebrows with 2015's
The Epic
, an ambitious three-disc album. With its heavy drums and soaring strings, the opening track, "Change of the Guard," sets the tone for the often atonal album. One highlight, the beautiful ballad "The Rhythm Changes," features singer Patrice Quinn who croons like Billie Holiday; her voice pairs nicely with the song's delicate string arrangement and Washington's tempered solo. In the wake of the album's release, Washington worked with rapper Kendrick Lamar on his
To Pimp a Butterfly
, one of the most notable hip-hop records of the past decade, so you can expect some hip-hop heads to be in attendance for tonight's show. (Niesel), 8 p.m., $29.50 ADV, $35 DOS.
Agora Ballroom
.
The Wood Brothers/Sean McConnell
Delicate, soulful and funky: The Wood Brothers blend a nice variety of American musical traditions into their stuff, and they tend to bring a charming and profound presence to the stage. We loved their show at the Kent Stage a few years back. They dotted it with older tunes and newer cuts from
Paradise
, which had only recently come out at that point. They'll get you dancing and thinking, and we certainly condone that. With Oliver Wood's masterful vocal work and Chris Wood's top-of-the-game bass playing — along with the multi-instrumentalist curiosities of Jano Rix — the band twists the traditions of folk music into a complex and inviting web. (Sandy), 8 p.m., $28 ADV, $30 DOS.
Beachland Ballroom
.
SUNDAY, NOV. 12

JD McPherson/Dylan Pratt
With 2015's
Let the Good Times Roll
, the follow-up to his acclaimed 2012 debut,
Signs & Signifiers
, singer-guitarist J.D. McPherson established himself as someone who could take early R&B and rock sounds and update them for modern times. The album has a great energy and the songs come across as really raucous and upbeat. His latest effort,
Undivided Heart & Soul
, comes across as an even grungier affair. Expect to hear a slew of tracks from it at tonight's show. (Niesel) 8 p.m., $18 ADV, $20 DOS.
Beachland
Ballroom.
Tyler, the Creator
Not a ton of rap artists have been arrested for inciting a riot like Tyler, the Creator was after a SXSW set in 2014. But those days are behind him. The Odd Future artist is 26 now and incredibly busy. He has two TV shows on Viceland and Adult Swim, and also collaborated on a shoe line with Converse. He's currently on tour promoting his new album,
Flower Boy
, which he so kindly touted as "Scum Fuck Flower Boy" before its July release. And it's within this flowing album that we (thankfully) see the most growth. In lieu of misogynistic and homophobic rants, Tyler looks inward. Straight from the beginning of his swirling and slow "Foreword," he delves into his desire to understand himself better. But Cleveland fans can still expect the L.A. artist to throw a party at tonight's House of Blues show. Just this time, the sweat, jumping dance moves, neon lights and enunciated raps will offer a much larger glimmer of truth. (Laura Morrison), 7 p.m., $30-$40.
House of Blues
.