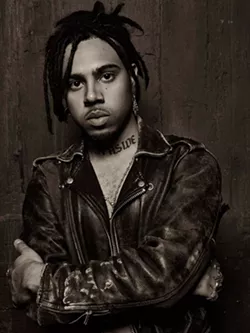 Chicago-based rapper Vic Mensa regularly writes about political and social issues. So you can imagine that the current political climate weighs heavy on his mind.
"I would say that every human being in the world is struggling with a lot of unrest," he says in a recent phone interview. Mensa, who just released
The Autobiography
, opens for Jay-Z at 8 p.m. on Sunday, Nov. 19, at Quicken Loans Arena. "I think it's been a period of heightened awareness for me. I've been studying a lot and making a lot of historical connections. The political climate currently is very, very volatile. The undercurrents are classic American themes of white supremacy and patriarchy and nationalism. These are all classic American ideas. They're as American as hot dogs and apple pie."
Back in 2013, Mensa, the founder of the SAVEMONEY collective, made his debut on Chance the Rapper's mixtape
Acid Rap
. That same year, he also issued his own mixtape,
Innanetape
, and joined J. Cole and Wale on their What Dreams May Come tour the following year. After two EPs, Mensa dropped his full-length debut,
The Autobiography
, earlier this year. He refers to the album as a "make it or break it" release, suggesting that if it didn't make an impact, he might need to find a new record label to call home.
"I was writing it from a place of necessity," he says of the album. "It was my way of addressing and assessing and being real with situations in my life. It's very vulnerable and personal. It represents different pillars of my experience. I speak about my upbringing on the South Side of Chicago and the ways in which that shapes me. It's about the realizations I had a young black boy on 47th Street who would get stopped by the cops while riding his bicycle."
He says it's also about the relationships he's had and "some of the volatility" that has accompanied them.
"It's about finding myself in these pasts and going through things on the streets and ruminating on the violence in Chicago and how I was affected," he continues. "It's also about my own struggles with addictions and depression all to come around to a place at the end that is unburdened by ego and the weight of this past that I speak of. It's something that is more free and a vision of freedom. I wanted to take the listener on a real journey and paint a comprehensive picture of myself less as a rapper and more as a human being."
The album commences with the soulful "Say I Didn't," a tune that features cooing backing vocals before the drums drop and Mensa delivers rapid-fire raps about his "rebirth," name-checking icons such as Ray Charles and Diana Ross in the process. The wonky "Memories on 47th St." features gospel-inspired backing vocals as Mensa raps about growing up on Chicago's South Side. "At age 12, I learned the difference between black and white," he raps, dropping in references to NWA and Eminem. In "Rollin' Like a Stoner," he makes allusions to his struggles with addiction. The album comes off as a compelling spiritual journey.
"Hip-hop being still young but having had time to go through some phases at this point is in a place where it can represent so many different walks of life," he says when asked about why spiritually minded rappers have become so successful in the past year. "You have rappers and rap fans from Compton to Malibu to Denmark. Anyone's experience can be represented and told through hip-hop. With this record, I wanted to do something that could transcend limitations of society and culture and race and age and just be visceral in a way that somebody that rural Ohio will give it a chance. They might not be into rap at all, but if they listen to a certain song and come with an open mind they can relate in some way.
The album features guest appearances by Pharrell, The-Dream, Pusha T, Ty Dolla $ign, SYD, Chief Keef and Joey Purp. It also includes an unlikely collaboration with indie rock darlings Weezer.
"Oh man, I love Weezer," says Mensa. "They're just one of my favorite bands. I sampled them and by chance I ended up in the studio with [Weezer singer] Rivers Cuomo, and he loved the song and we just connected, and he jumped in the booth."
The skit on the disc, "Card Cracker," is pretty hilarious as it includes a laundry list of impulse buys.
"Everything on the album is real stuff," says Mensa. "The skit is about a situation where a good friend of mine stole a pretty hefty sum of money from me and bought a bunch of ridiculous stuff with it, and I made a joke out of it. It was heavy shit, but that was my way of coping with that and coming to terms with it."
Jay-Z, one of Mensa's influences, has also released a highly autobiographical album that will likely make up the bulk of his set at the Q. The connection between the two rappers isn't lost on Mensa.
"The tour has been amazing, the first couple of shows we've done," says Mensa. "What's special about this tour with both Jay-Z's
4:44
and my album,
The Autobiography
, is that going to this concert, you leave with something that's bigger than music. It's forcing conversations and questions about real things at a pivotal time. This is a significant show. People are really in for a treat."
Jay-Z, Vic Mensa, 8 p.m. Sunday, Nov. 19, Quicken Loans Arena, One Center Court, 888-894-9424. Tickets: $29.50-$175.50, theqarena.com.