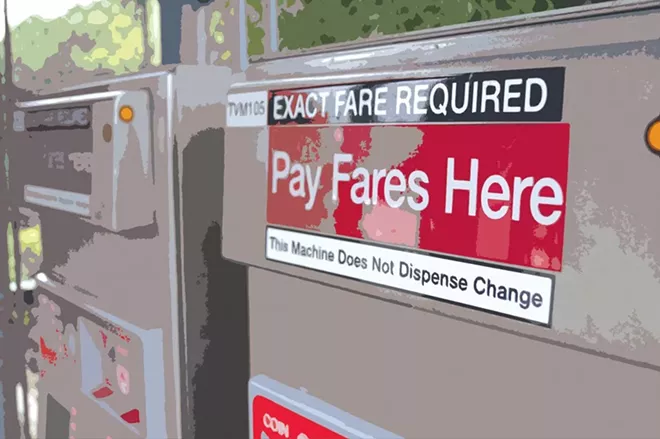 At a Greater Cleveland Regional Transit Authority (RTA) board meeting Tuesday morning,
Deputy GM Floun'say Caver
announced that the on-time performance of HealthLine buses was down only four percent in the aftermath of
a local court decision
that found fare-enforcement by armed transit police unconstitutional.
Caver said that prior to the decision by Judge Emanuella Groves on Oct. 26, the HealthLine's on-time performance was at 88 percent. In the immediate aftermath of the decision — which forbid armed transit police from enforcing fares on the HealthLine and Red Line trains — on-time efficiency dipped to 72 percent, well below the fleet's 80-percent goal.
But Caver said passengers are now getting accustomed to the new method, in which transit officers are stationed on platforms, not trains, and serve as "human turnstiles" (Joe Calabrese). If officers are not present on platforms, riders purchase fare cards, or get existing cards validated, with the vehicle operator. Caver said that after the first five days of this new method, on-time performance has rebounded to 84 percent, only a four-percent drop from before the Groves decision.
Those numbers were disputed by public commenters at Tuesday's meeting. Riders described bunching buses and crowded, confusing single-door boarding experiences.
Marvin Ranaldson spoke on behalf of Clevelanders for Public Transit. He reiterated requests that the coalition has made previously. CPT has asked for the following:
1) A new systemwide fare-enforcement method with
unarmed
civilian officers.
2) The decriminalization of fare evasion.
3) The immediate re-instating of all-door boarding to improve efficiency and rider experience.
RTA CEO & General Manager Joe Calabrese pleaded for patience from riders. He reminded the meeting's attendees that the decision to change the fare-enforcement method was not RTA's.
"We're chartering new waters here," he said. "This is very much a dynamic process. We'll keep experimenting with it until we achieve what we think is a success."