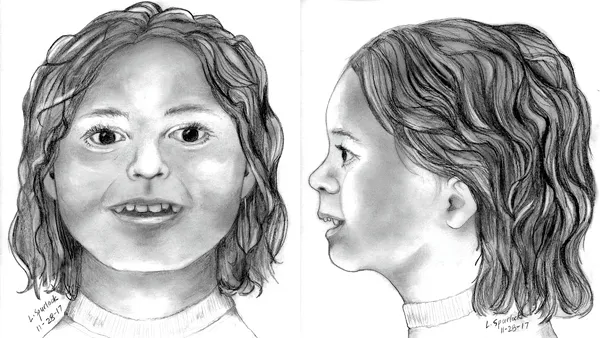 Update: The Cuyahoga County Medical Examiner today released the identity of the child whose remains were found in the yard of an abandoned house on the west side back in September. He was 4-year-old Eliazar Ruiz.
Cleveland police released a composite sketch in December in the hopes the public could help with the process. They'd been unable, in the previous months, to make any headway as they searched missing children databases and ran the boy's DNA.
A tip in early January provided them with a name.
Channel 5's Homa Bash
says the family told her the child's mother, while in jail on drug charges, saw the sketch on TV and called police. The boy's identity was confirmed through DNA testing.
Fox 8 reports
that officials are now continuing the investigation into the how and why of Ruiz's death.
"Cases involving child fatalities are extremely sad," Cleveland Police Chief Calvin Williams said in a statement. "Now that Eliazar has been identified, he can be properly laid to rest as he deserves. This investigation remains in the early stages and no arrests have been made. I'd like to thank the Cuyahoga County Medical Examiner's Office for their continued partnership, as well as our local media for the coverage on this case."
***
(Original story 12/6/17): Cleveland police today released forensic sketches of a child in the hopes the public can help identify the boy, believed to be about 4 years old, whose bones were found in a bag in the lot of an abandoned house on Longmead Ave. on the west side on September 20.
The Cuyahoga County Medical Examiner said the boy had probably been dead for several months before his remains were found. Authorities have already run DNA through a nationwide database and compared the child's attributes to a list of reported missing children, but found no matches.
The bag of remains was discovered by a man who was pruning shrubs; investigators initially thought they might be connected to the death of Daniel Slone, who was killed and dismembered by Hector Diaz. Diaz disposed of part of Slone's body in a Lorain area dumpster and later killed himself after being surrounded by a SWAT team. That didn't turn out to be the case.
Anyone with information can contact Cleveland police at 216-623-5464.