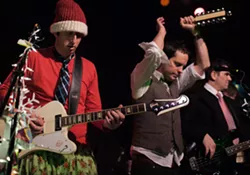 Courtesy of the Ohio City Singers
More than a decade ago, local singer-songwriter Chris Allen, his sister Molly and singer-guitarist Doug McKean worked up four Christmas tunes and then threw a big Christmas party to which they invited their musician friends.
They played the four original tunes they had penned as well as a few choice covers, recorded them and delivered them on a CD to their families as a Christmas gift. That signaled the birth of
Ohio City Singers
, a group of local musicians that plays several Christmas-themed concerts each year.
This year, the group celebrates the ten-year anniversary of its first album and its first public show. It's already played a few shows to capacity crowds and has a gig coming up on Saturday, Dec. 16, at
House of Blues
.
After a recent rehearsal at Allen's westside home, Allen, singer-guitarist Austin "Candy Cane" Charanghat, singer-bassist Tom Prebish, singer-guitarist Matt Sobol, singer-accordion player Nick "The Clobberer" Stipanovich, percussionist Fred Perez-Stable, singer-drummer Brent Kirby, singer Kelly Wright and McKean revisited the last decade to provide these highlights.
2008
Allen:
We recorded our first record,
Love and Hope
, and played our first show at the House of Blues Cambridge Room. We recorded the album at the Sachsenheim, and we did the singing parts at the Happy Dog. We had been doing house parties since 2003. Of all the many musicians that came and went throughout the whole process, we solidified the band doing the
Love and Hope
record. It was the first time playing publically, so it was a bit of an experiment to say the least. Most of our family and friends showed up. We had about 150 people there.
Kirby:
It was a good crowd.
Allen:
One thing we realized was that it was going be a family thing.
Sobol:
We had to take the Cheech and Chong stuff out of the set.
McKean:
We were feeling out what it was to be a live band.
Kelly:
We had costumes. They were the ones we also wore to funerals.
Kirby:
We had guests. [Local musicians] Joe Rohan and Bobby Latina played at that show.
2009
Allen:
We did our first kids' show that year at Around the Corner.
Charanghat:
There were a lot of people there.
Allen:
It was packed. We weren't equipped to play for kids. We were loud and the set was long. We were killing it but we had to figure out how to do it for a different audience. We were shocked at how packed the show was.
2010

Allen:
We released "Snow Day" as a single. Doug was living in Ohio City, and we realized we needed more material to fill out a full set. We were writing a really pretty song about Christmas and we decided it was complete garbage. It changed the way we thought about writing songs.
McKean:
We could imagine seeing the kids and their reaction. In 2008 and 2009, we hadn't thought about doing another record. Writing "Snow Day" was the start of trying to do more material and fit it into what we doing as a band and making the transition from the loose collective to the unit that put on those live shows. There were a couple of years where the band was feeling that out. We decided we would start to play a bunch of bar shows to promote the band.
Allen:
That year, we did a Saturday night show at the Happy Dog and that was cool, and we did a show at the South Side out in the cold. We knew it was turning into a party and that we had outgrown the Happy Dog.
Kirby:
We came in through the front door carrying candles.
Wright:
We sang "Go Tell It on the Mountain." I had to teach it to you guys.
Allen:
Sometimes our attempts at showmanship didn't work, but that was a great show and one of the most memorable moments.
2011

Allen:
That was a good year. It forced us to really practice. We wrote the
Snow Days
record all winter and had to rehearse for it in the summer. We did a Christmas in July show at Stone Mad. We recorded here in my basement in August. Once the tracks were done, we brought the recordings upstairs and we brought over family and friends to sing on the record. All the party noises are real party noises. We released that record.
McKean:
That was the first time we did a record of original material that was written since we had played live. In 2008, we recorded songs we had already written. After that, we started putting out records regularly. Two years later, we did the third one and then a few years later we did another one.
2012

Allen:
We put out a collection of stuff from the party records.
McKean:
We wanted to get "The Grinch" on a record. "The Grinch" had become a big thing live. We had recorded it at the Happy Dog in 2005 and we put that and a couple of things we had never recorded for the first record. A big impetus was to get "The Grinch" on a record.
Kirby:
My daughter wouldn't talk to Auggie because it scared her so much. She came to the rehearsals and if he started to sing it, she would leave the room.
Charanghat:
You're welcome. I thought it was funny because after we put out the Grinch kids would come up to me and say, "Hi. My Grinch."
Kirby:
You own that song. People think you are it.
Sobol:
You sold it from the first verse. There's a great video of you guys playing it live.
Allen:
Pat the Producer was doing a radio show at the Lava Room and Pat's mom is the elf in the video. He made the homemade eggnog and it was best drink ever.
2013

Allen:
We started writing the
A Town Called Christmas
record early in the year. We did it at Suma. It was the first record at a real studio. We did it in one day pretty much.
Kirby:
That was a lot of fun.
Allen:
We went all in that year. We had the Snow Days beer brewed at Portside. We did an animated video of "A Town Called Christmas." We played that year at Roc Bar in the Flats. We set up and rehearsed. We were going to do it as a live album. We had everything set up and it was raining like mad that day and the roof started to leak. I knew we had insurance, but it was still terrifying. The place was packed with people. The room sounded like crap, and the recorded sucked. We got caught up in the moment. But it was still fun. We had drinks named after our songs.
Charanghat:
Everyone had a great time even though the band didn't play that great.
2014

Allen:
That year we did a show down in Akron and Don Dixon wrote a radio play about
A Town Called Christmas
. While in the dressing rooms, in the bowels of Akron Civic, we read our parts.
Kirby:
It was terrible.
Allen:
Don got it done, and he said he would send it to us, but he said, "To a man, you are the worse actors."
Sobol:
We didn't capture the spirit of what he was talking about.
Allen:
We never put it out.
Kirby:
I still think it's kind of endearing.
2015

Allen:
We played the Music Box and G.A.R. Hall in Peninsula, and both shows were sold out. The family shows started to take off. We did "Baby, Don't You Know It's Christmas." We came to realize that Kelly is the best singer.
Kelly:
You tried to unsuccessfully to write give me other rock jams. They would still be slow but not in my key.
2016

McKean:
In May or June of last year, Chris told me we were doing a record. In May or June, we got back to it. We wrote a bunch of songs that summer and then recorded at Chris's mom's house. It was a busy summer writing and recording those songs. It was as active as we've been during the off-season. We went back to the house party vibe.
Sobol:
It was a controlled house party.
Allen:
We recorded the tracks live.
Sobol:
It was way different than the first one, that's all I have to say.
Wright:
It was so much easier after playing together.
Allen:
We also did two shows at Vosh that year. That was fun. One night we played the entire
Love and Hope
album and the second night was a greatest hits night, and we leaned on more covers. We did a few more covers. Don Dixon sang William Bell's "Everyday Will be Like a Holiday."
Charanghat:
We really need to put that one back in the set.
Ohio City Singers, 7 p.m. Saturday, Dec. 16, House of Blues, 308 Euclid Ave., 216-523-2583. Tickets: $18, houseofblues.com.