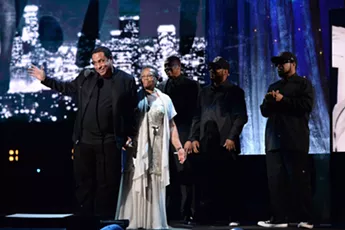 Kevin Mazur/WireImage for Rock and Roll Hall of Fame
DJ Yella at the Rock Hall's 2016 Induction Ceremony.
Per usual, the Rock Hall will celebrate national Black History month with a series of special events and programming.
There will be live concerts, interviews, film screenings and special programming.
At 7 p.m. on Wednesday, Feb. 7, DJ Yella and Lil Eazy-E kick things off. A Rock Hall inductee, N.W.A.'s DJ Yella will sit down with Lil Eazy-E, the son of rapper Eazy-E, and the Rock Hall's Dr. Jason Hanley to discuss their careers. An audience Q&A session and DJ demonstration will follow the interview. The event is free but a RSVP is required. Rock Hall members can
RSVP
now; the general public can RSVP beginning at 10 a.m. tomorrow. The event will also be streamed live on the Rock Hall's Facebook page, and the online audience can submit questions via the Web.
At 8 p.m. on Friday, Feb. 9, Kinsman Dazz Band and DJ Ellery will perform. Those tickets, which are available now to Rock Hall members and will be available at 10 a.m. tomorrow to the general public, cost $10.
At 7 p.m. on Wednesday, Feb. 21, the Rock Hall will screen the 2012 film
Something From Nothing: The Art of Rap
in the Foster Theater. Directed and produced by rapper Ice-T, the film includes interviews with many of rap's most influential stars. Tickets are free for Rock Hall members and $5.50 for the general public. Tickets are available to Rock Hall members now and to general public at 10 a.m. on Saturday.
At 5:30 p.m. on Wednesday, Feb. 28, the Rock Hall will present CTRL|ALT|BEAT, an "interactive, socially engaging experience" that will allow attendees to gain valuable information regarding diversity and inclusion in music technology, innovation, creativity, and business. The event is free with an
RSVP
. Rock Hall members can RSVP now, and the general public can make RSVPs starting at 10 a.m. tomorrow.