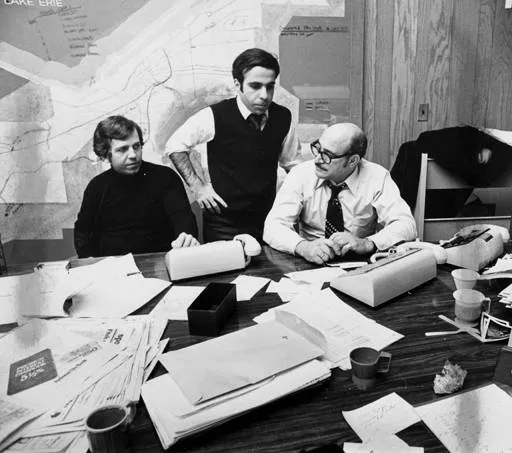 Cleveland Memory Project
Mayor Dennis Kucinich was in Washington, DC that day to meet President Jimmy Carter. These men (left to right), Joe Stewart, acting mayor Joe Tegreene, and Louis Corsi, ran storm control operations from City Hall.
Forty years ago this week Cleveland, along with much of the Northeast, was pounded by an historic, record-setting, devastating blizzard. Fifty-one Ohioans died, winds gusted between 80 and 100 mph, and the barometric pressure reached an all-time low of 28.28 over Cleveland (which is lower than what you'll find in the middle of most hurricanes.)
There are many, many great photos floating around (
one of our favorites shows just some of the abandoned cars — those left on roads — that Cleveland police towed to Edgewater
) but the real flavor, of course, comes via video. Check out Channel 8's broadcast in the midst of the fury and some additional archival footage from Channel 5 below that.