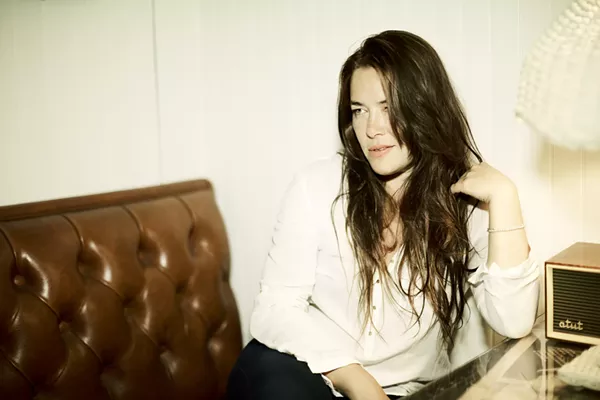 Singer-songwriter Rachael Yamagata originally began performing with the Chicago-based band Bumpus before leaving that group to pursue a solo career. The move marked a significant change to her approach
"The music I did in [Bumpus] was so different," says Yamagata, who adds that she grew up listening to Joni Mitchell, Carole King and Cat Stevens, in a recent phone interview from her New York home. She performs with Sandy Bell at 7:30 p.m. on Friday, Feb. 9, at Music Box Supper Club. "Musically, that was an easy transition because I was moving toward something that I thought was my own voice for so long. In terms of the weight of things on your shoulder as a solo artist, that was a different experience. I went from having a band family to having to create a new backdrop for it. It was all organic in how it came together. I didn't intend to go solo, and I never expected to have a solo career."
Initially, Yamagata issued a self-titled EP and then released her full-length debut,
Happenstance
, in 2004.
Happenstance
songs such as "Be Be Your Love" and "Letter Read" show off Yamagata's soulful voice and established her as a significant talent.
"That album was the most fun to make," Yamagata says of
Happenstance
. "It was back in the days when I wasn't nervous about anything. My second gig ever was playing at Madison Square Garden opening for David Gray. I thought, 'Oh, this is how it is.' I remember sitting in a Kinkos with my producer. I told him that we should work together. We looked up studios on the ocean and found a studio in the Bahamas. That was my first record. It was fantastic."
With the follow-up album, 2008's
Elephants… Teeth Sinking Into Heart
, Yamagata explored deeper and darker emotions.
"The intensity and craziness of the first record and that first two-year touring cycle all over the world had the greatest highs and lows," she says when asked what took her in a different musical direction. "It was extremely frenetic and lonely, so I turned inward a lot. My stepmother passed away, and that was the first experience I had with somebody close to me dying. There was that coming into the mix and intense love relationships that ended. It was a different me at that time."
On her most recent album, 2016's
Tightrope Walker
, Yamagata experiments to the point that each song sounds wildly different from the previous one.
"They're all over the map," she admits. "That was the first record where I was a full-fledged co-producer. We tracked everything at my house. It was a smorgasbord of playing. The production spans the spectrum of just how I was feeling in the moment. I didn't have a strategy at the onset; it was just a soundscape to serve whatever story was happening. There are a lot of different stories on it."
The track "EZ Target" features clanging percussion, vocal samples and something that sounds like a distorted banjo as Yamagata adopts a husky growl.
"That was a crazy one," she says when asked about the song. "That has three drummers on it. The storyline was that someone said something that caught me off guard and was so offensive to my soul. I was in a situation where I couldn't move on. I translated that into the song. Because the emotion was so extreme, I knew I wanted angular, jarring songs on it. That led to me hitting drum patterns. We worked with these amazing drummers. Each drummer gave something super fantastic but none of it hit each section like I wanted. I edited three different drummers. It has that uncomfortable feeling running through the whole thing, which I love."
The music video for the tune "Let Me Be Your Girl" features actress Allison Janney as a woman who puts on layers of makeup and dons a frizzy wig that makes her look like a clown.
"She was already a fan, which helps a lot," Yamagata says of Janney. "A good friend of mine is a really good friend of hers. She had always said, 'We need to get Allison into a video of yours.' I was like, 'Fuck yeah, that'd be amazing. Make it happen.' Josh Radnor had been directing music videos, and I knew he worked with Allison before. I called him and asked him if we could get her into the video if he would direct it, and he flipped out. It was a perfect storm. She was unbelievable. She does all the dancing. She was like one-take Allison. She is incredible."
For the current tour, dubbed the Songs - Stories - Solo tour, Yamagata has stripped things down. She won't have a backing band, and she plans to play only tunes that lend themselves to the simpler format.
"Yeah, it's just me," she says. "I'm taking this giant road trip. For some reason, I thought it would be a good idea. I've done several years of full band tours with lots of bells and whistles. They've been really fun. This is the last round before I go in and making another record. I wanted to do one round of living room intimacy and that kind of experience. I've never done a tour like this in the U.S. I think it will be an interesting experience for myself and the audience. There are certain songs that are really, really moving when not fully produced, and they're more powerful when it's just a voice and an instrument. There are other songs that rely more heavily on production. I'm leaving those out."
Though she acknowledges she'd due for another studio release, she says she's not made much progress toward coming up with the material.
"I started writing some songs," she says. "I know I need to make one. That's as far as I've gotten."
Rachael Yamagata, Sandy Bell, 7:30 p.m. Friday, Feb. 9, Music Box Supper Club, 1148 Main Ave., 216-242-1250. Tickets: $25 ADV, $30 DOS, musicboxcle.com.