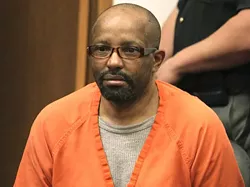 Serial Killer Anthony Sowell
The Cleveland Institute of Art Cinematheque will screen the Anthony Sowell documentary
Unseen,
by local filmmaker Laura Paglin,
on March 18.

It'll be the first local screening of the film since it debuted in 2016 at the Cleveland International Film Festival.
Paglin, who interviewed some of Sowell's surviving victims for the film and managed to obtain "shocking police footage," will appear in person for the event to answer audience questions after the screening.
Here's a brief description:
"In 2009, Cleveland police discovered the bodies of eleven women decomposing in the Imperial Avenue house and yard of known sex offender Anthony Sowell. Why weren't these women missed or their disappearances more thoroughly investigated? How did this killing spree go unnoticed for so long? These and other troubling questions about the invisibility of women on the margins of society are raised in this powerful work."
The Cinematheque advises that
Unseen
is for adults only.