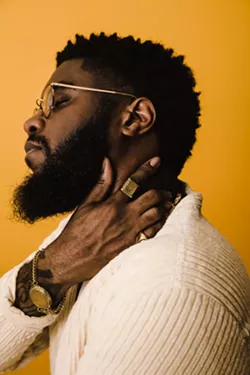 There is a scene in
Superman III
in which Superman is secretly exposed to Kryptonite and soon thereafter becomes a darker version of himself. He succumbs to depression and finds himself in a bar throwing back shots of Johnny Walker Red and breaking bottles as he flicks peanuts at them. He stumbles out into the street filled with onlookers shocked to see how far the once-great hero of Metropolis has fallen. He flies away but still hears the desperate cries of a young boy who still believes Superman can snap out of his slump. Once he lands, Superman has a nervous breakdown and the personas of Clark Kent and this evil Superman have a battle to the death.
Much like Superman in that movie, Mississippi rapper Big K.R.I.T. (an acronym that stands for King Remembered in Time) also has battled his own demons and wrestles with the duality of being K.R.I.T as well as Justin Scott. The rapper burst onto the national scene in 2010 with his
K.R.I.T. Wuz Here
mixtape which ended up landing him a deal with Def Jam Records. While it seemed like a blessing at the time, K.R.I.T.'s tenure with the label was tumultuous as his vision and the corporate vision for his career didn't always sync up.
After two critically well-received albeit underperforming albums (2012's
Live From the Underground
and 2014's
Cadillactica
), K.R.I.T. and Def Jam parted ways. Late last year, Big K.R.I.T. released his third studio album,
4eva is a Mighty Long Time
independently through his Multi Alumni imprint. The album is a double disc that's split into a Big K.R.I.T. side and a Justin Scott side. All of K.R.I.T.'s previous projects have a flow to them that usually begins with upbeat party music before taking listeners on a journey to deeper songs. The idea of an alter ego isn't entirely new in hip-hop — T.I. and Digital Underground have also experimented with the concept.
"Just because of what I was dealing with in life — everything I went through with Def Jam and I was in a place where I was creatively stumped and trying to be competitive," K.R.I.T. says via phone when asked why the time was right to separate the two personas. He brings his Heavy is the Crown tour to
House of Blues
at 8 p.m. on Sunday, March 18. "It was always about creating the best music that I could when I was younger and wanting the accolades and things of that nature. This is the first time when I wasn't really stressed over a label, and I was going to do things my way and create the kind of music that shows what I deal with on a day-to-day basis as far as anxiety and my vices as well."
In the past, Big K.R.I.T. was very vocal about his frustration with how he was viewed as being an artist from Mississippi but admits that the bitterness has faded some.
"Not so much now," he says of the once ever-present chip on his shoulder. "For me, I still want the song to be a good as possible. So if I'm doing a song with you, I'm still going to try and kill you on the record, but it's all for the betterment of the song. It's not me against the world now. I can't change how people view where I'm from. I go back and listen to my very first album, and I was definitely frustrated that people didn't get it. A lot of the aggression showed in my music and that wasn't healthy. You could hear it in the music, you could hear it in a lot of the interviews that I was bitter, and it was a blessing to be able to let that go. The people that support my music have grown, and it's important that I do the same for the sake of the music they support and listen to as well."
He feels as if there's a superhero aspect that comes with being an artist and trying to be great, but sometimes when that superhero goes home, the walls come tumbling down.
"For me it was very important this time to show people what I was dealing with and I had to separate the albums so sonically it would be easier to digest," he continues. "I also want to be transparent and let people know that a lot of the things I rapped about when I was younger, I don't necessarily feel that way now. But I still do like old school cars and candy paint. I feel like turning up that shows and enjoying myself but also being more aware of the message I'm sending out and giving people both sides. It's like, 'Yeah we party and have fun,' but there's also that 'Drinking Sessions side where I express what it's like when you're overdoing it."
The clarity made it easier this time around for K.R.I.T. when it came to interviews and talking to people because so many people could relate to what was going on as far as getting older and going through anxiety and depression and wondering what if they're doing what they're supposed to be doing in life. He essentially dug deep and asked himself these kinds of questions on wax.
As of late, Big K.R.I.T. has also been more openly creating songs about love and relationships and credits not only his partner but also a lesson he finally learned about happiness.
"Money won't make you happy," he says. "It took me a long time to realize that. I had acquired so much over the years and it's not really going to fulfill you at the end of the day. I actually went broke making
4eva is a Mighty Long Time
, but it was a moment when I really found some peace of mind because I started to figure out what really would make me happy without trying to ball out. I was more about going outside and looking to myself."
Big K.R.I.T. is currently in a relationship with singer-songwriter Mara Hruby and recognizes her role in his happiness as well.
"Talking about love was something that the soul singers I grew up listening to did freely," K.R.I.T. continues. "I think sometimes you get away from that being a rapper. For me, my woman is a big part of my life as far as keeping me grounded and allowing me to express myself without always telling me that I'm right. Having that was something that I thought I needed to share too. I feel like people need to get out there and find someone who loves you for you and not for what you can do for them."
In addition to love, the Justin Scott side of
4eva is a Mighty Long Time
also explore the perils of fame including alcoholism and depression. The topic isn't completely new, as K.R.I.T. has touched on it in the past, but never to the extent as he does on "Drinking Sessions" and "The Price of Fame."
"Once you call yourself out, you really start to look at the patterns," he says when asked if there were any reservations about discussing the often taboo subject. "I spent three or four months in the house and told myself I was going to go sober and write these songs. I had put myself in the position where I felt like I couldn't write the best way I knew how to if I was sober. That's what I was telling myself. I really challenged myself to complete the process of making this album sober and it showed me something about myself. My energy and endurance to create songs in the studio was way longer and then a record like 'Drinking Sessions' starts to make more sense in how it can help someone. I just wanted to talk about that because it's so easy to fall into that and not realize that you're abusing your vice, and you're not really going through things the way you should naturally."
While tight lipped about show specifics, Big K.R.I.T. promises to bring the same energy to his performance as always.
"There will definitely be a lot of energy as always," he says. "I would say more of me trying to bring more of an experience this time. I'm trying to find a creative way or bringing the music to life. I want some bring the same soul and passion but this album meant a lot to me just based on what the content was. You have songs like 'Bury Me in Gold' and I'm trying to make it a spiritual moment — a moment were people can come to the show and get whatever they've got going on off their chest and just let it go. I really want to focus on doing the newer music. I think people got used to me taking it way, way back. But I dropped 22 songs and I really want to perform a lot of that music and show people where I'm at now opposed to my younger self."
Big K.R.I.T. recently performed three songs on NPR's popular Tiny Desk Concert series as well.
"It was crazy," he says of the experience. "First of all, shoutout to those musicians because we only got to rehearse one time and it came out like that. The renditions were different, but it gave a different perspective to how those records could sound and feel. To be able to play my grandmother [via tape recorder] and let people hear the woman who inspired me was powerful and overwhelming. So just seeing people's reaction, knowing how much I put into those songs, felt good. Even with 'Mixed Messages,' I hoped I touched on something everyone can relate to."
Justin Scott, much like Clark Kent, found himself at odds with a dark version of his superhero alter ego. While perhaps Scott did not fight an evil Big K.R.I.T. in a junkyard, survive being tossed into a compactor and prevail at end by choking his counterpart, he fought in the best manner he knew how — through music.
Big K.R.I.T., Cyhi the Prince, 8 p.m. Sunday, March 18, House of Blues, 308 Euclid Ave., 216-523-2583. Tickets: $23.50 ADV, $27 DOS, houseofblues.com.