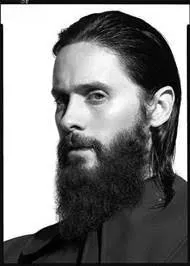 As part of a week-long promotional tour to build anticipation for Thirty Seconds to Mars' forthcoming album,
America
, singer Jared Leto will appear at the Rock Hall this morning at 10 a.m. According to Leto's publicist, the frontman will likely "sing, engage with fans and give some sneak advance listens to the album."
The promotional tour kicked off yesterday in New York, where Leto performed in Penn Station with a gospel choir, greeted fans in Times Square, performed at the Union Square subway station and hitched a ride with rapper A$AP Rocky.
Leto says he aims to "hitchhike, walk, run, climb, bike and work [his] way across this beautiful country telling the story of America," as he puts it on a Facebook post.