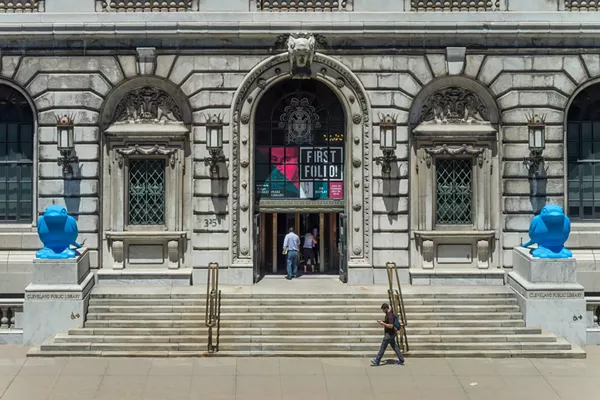 photo via Cleveland Public Library/Facebook

WKYC released an investigative report on Monday night about the criminal behavior of patrons in the Cleveland Public Library system. The story uncovered some concerning statistics that more than justified the CPL's decision to add more security cameras and patrolling guards across its 27 branches, and WKYC even met with CPL's executive director, Felton Thomas, to learn more about the reportedly rampant criminal activities occurring within library walls.
Thomas's perspective is vital, as are the hard facts and numbers, but WKYC's investigation unfortunately did not include the perspective of daily library staff members or patrons, nor did it discuss the factors or influences that may be responsible for criminal activity taking place in the library.
CPL librarian Terry Metter, speaking for himself and not on behalf of the CPL, expressed concern about the WKYC report.
Libraries are more than just centers for late fees on paperbacks, they're sanctuaries and community centers, one of the last refuges where anyone is welcome, and
Ohioans use their libraries at one of the highest per capita rates in the country
even as the state has
severely cut funding.
More than half of young adults and seniors living in poverty utilize public libraries to
access the internet
to find work, apply to college, secure government benefits, learn about medical treatments and become more
informed voters
.
According to the American Library Association (ALA), librarians in public and academic libraries across the country answer nearly
6.6 million questions
every week. These questions may relate to the normally assumed book recommendations, but librarians also offer assistance in computer and internet training, job applications and resume writing, and filling out government forms including tax and health insurance paperwork, all for the low-low price of absolutely free.
As the public library is a publicly funded institution, access is available at no charge to the community. Unlike a restaurant that may require you to purchase something just to use the bathroom, the public library offers all of its services for free. Libraries are safe havens for the disenfranchised and to focus so heavily on the criminal "numbers" and not the people those numbers represent, just seems like a scare tactic.
Libraries also offer the critical safe and free refuge for anyone seeking shelter in addition to support to those in need. Libraries are a vital tool for those struggling the most on the socio-economic scale and can be the only resource available to assist in bringing them out of poverty.
As the 2016 Census Bureau
data shows
, 57.9% of Clevelanders living in poverty are African-American. Given that those from low-income households are most likely to utilize the library's resources, the previously mentioned report acknowledges the criminal statistics but not any of the factors that are the driving forces behind them.
We hope it wasn't WKYC's intention to specifically feature a black man talking to a police officer while discussing "bad things" happening in libraries, but that's exactly what they did, an odd if not troubling choice especially given the man's identity.
Ohioans use their libraries at one of the
highest per capita rates
in the country even as the
state has severely cut funding.
TV stations aren't exactly in the business of nuance, but scary headlines about crime in libraries and dangerous narratives about the people that patronize them demand context and WKYC failed to deliver it.