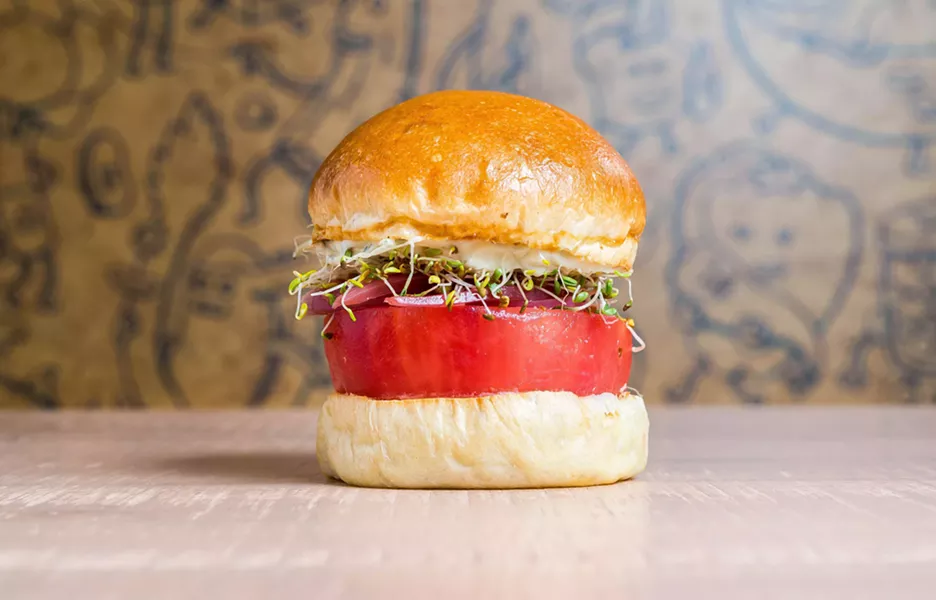 On Friday, May 11, José Andrés' fast-casual venture,
Beefsteak
, opens in the Crile Building on the campus of the Cleveland Clinic (9500 Euclid Ave.) It will be the sixth location for the concept from
ThinkFoodGroup
, and the first located west of Philadelphia. The health-focused eatery is not vegetarian, but it does focus on fresh, seasonal produce, making it a good fit for the healthcare provider.
"When I began this project, my idea was to bring a concept where the vegetables are at the front and cover the needs that the spectrum of fast food restaurants don't cover," explains Andrés, who was in Cleveland for a preview event. "The good news is that over the last few years since I've had this idea, not because of me, but you can see that this is an area that's being populated more and more. For me to be in a hospital environment, a university environment, I think are our low-hanging fruit in terms of customers and we need more of these types of concepts."
Andrés launched the vegetable-forward fast-casual concept in 2015. Bright, colorful bowls are filled with various combinations of greens, grains, vegetables, sauces and toppings. Vegetables that are served cooked are flash-boiled to order in salinated water.
The Frida Kale contains rice, sweet potatoes, kale, cherry tomatoes, scallions, corn nuts and pumpkin seeds, for example, and is topped with black bean and spicy tomato sauces, cranberries and lemon honey dressing. The Gazpacho Bowl tops a base of fresh gazpacho with romaine, scallion, Tomato, cucumber, sprouts, radish and extra virgin olive oil.
Sandwiches like the namesake Beefsteak Tomato Burger feature in-season tomatoes, pickled red onion, sprouts, caper-herb mayo on a brioche bun, while the BEETsteak Sandwich swaps the tomato for a marinated beet.
Customers can add salmon or chicken for an additional charge.
The new eatery is part of a $10-million makeover of the 16,000-square-feet second-level food court. In design for two years and construction for one, the totally rebuilt space features six different concepts, including Beefsteak. Others include Starbucks, a flatbread station, roasted meat carvery, grill station, and pho and bone broth provider. The cafes are operated by
Bon Appétit Management Company
, which provides food service to the Clinic as well as corporations, universities and museums around the country.
"Our CEO and founder Fedele Bauccio has a relationship with José," says Bon Appétit GM Matthew Mathlage, "When we won the award of getting the Cleveland Clinic, it just made sense that Beefsteak would be a part of it because of their model of vegetable-forward, minimal protein, locally sourcing and doing everything with a purpose. It was just a real good fit for everyone."
While typically designed to serve those working in the building, this concept will likely attract a broader audience, Mathlage believes.
"About 70 percent of our guests are the employees: the nurses, the doctors, the caregivers on campus and then the families and patients," he says. "The Cleveland Clinic is pretty much a city unto itself. But I think with Beefsteak here we'll get a lot more from the outside, especially considering it's the first one this far west."
As the food service provider, Bon Appétit does everything from hiring and managing the staff to sourcing and preparing the food. They partner with Beefsteak's Chief of Produce Bennett Haynes to source the food, 20-percent of which comes from farms within 150 miles.
Named one of Time's "100 Most Influential People" and awarded "Outstanding Chef" by the James Beard Foundation, José Andrés is an internationally-recognized culinary innovator, author, educator, television personality, humanitarian and chef/owner of ThinkFoodGroup.