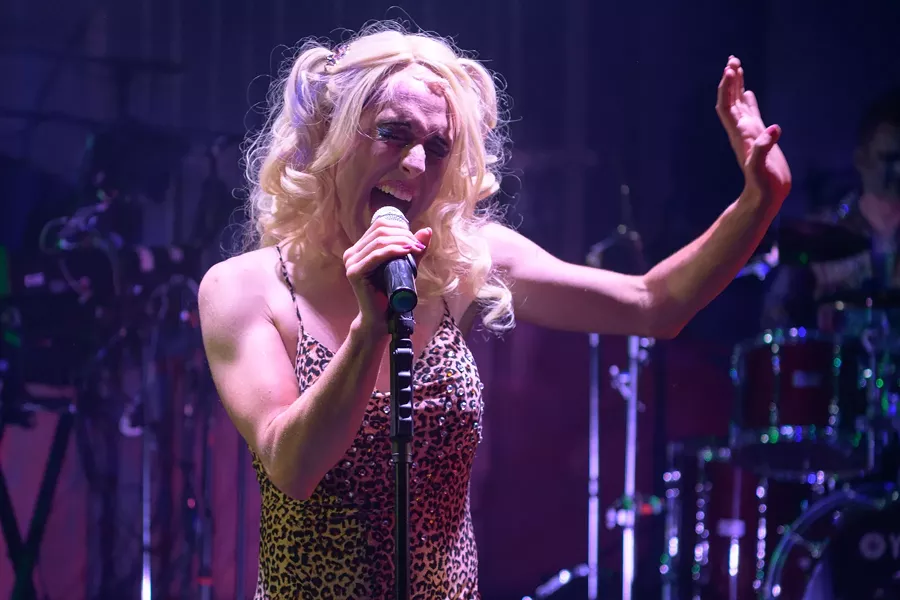 John Cameron Mitchell's dreamchild
Hedwig and the Angry Inch
follows a fictional rock band fronted by an East German song stylist who survives a botched sex change operation left with "a Barbie Doll crotch, an angry inch."
The musical has a devoted cult following, as does the film despite being a box-office bomb. John Cameron Mitchell, Darren Criss, Neil Patrick Harris, Jinkx Monsoon, Taye Diggs, Andrew Rannells and Michael C. Hall have all donned the iconic "wig in a box," and now Cleveland performer Devon Turchan is sliding into the high heels of Hedwig for the production at
Blank Canvas Theatre
, the first in Cleveland in almost 10 years.
Scene
spoke with Turchan about stepping into this iconic role.
"It feels like entering an ocean of energy that surrounds me with wet inspiration and allows me to appreciate the history of musical theater, the history of the men who have played this role and the history of love, punk, rock and roll," Turchan says. "The history of femininity and gender misalignment or mislabeling. Stereotyping. It feels like a huge opportunity."
The story of
Hedwig and the Angry Inch
is loosely pulled from John Cameron Mitchell's life as the son of a U.S. Army Major General who once commanded the U.S. sector of occupied West Berlin. The character of 'Hedwig' was inspired by a German divorced U.S. Army wife who was a Mitchell family babysitter and moonlighted as a prostitute at her Junction City, Kansas, trailer park home.
"John Cameron Mitchell invented this story from such a creative place in his heart and with the influence of every rocker and punk rocker and musical theater icon in his soul," Turchan says. "The material needs to be honored. It's only timeless if the actors choose to read into the beautiful words he wrote and the incredible rock score from Steven Trask. I feel like its words mean something to me more every night and to speak those so intimately to people feels more like an energy practice than a performance piece."
With musical influences from David Bowie, Lou Reed, John Lennon and Iggy Pop, it's no surprise why
Rolling Stone Magazine
once wrote that
Hedwig and the Angry Inch
is "the first rock musical that truly rocks."
The production is traditionally performed with actors playing the music right in front of the audience, rather than singers performing to a band off-stage.
"The greatest thing about this story," says Turchan, "Is that it's told as a rock show, a stand up comedy piece with live, hot, universal music that grabs attention — and then the words of the story seep in between the cracks."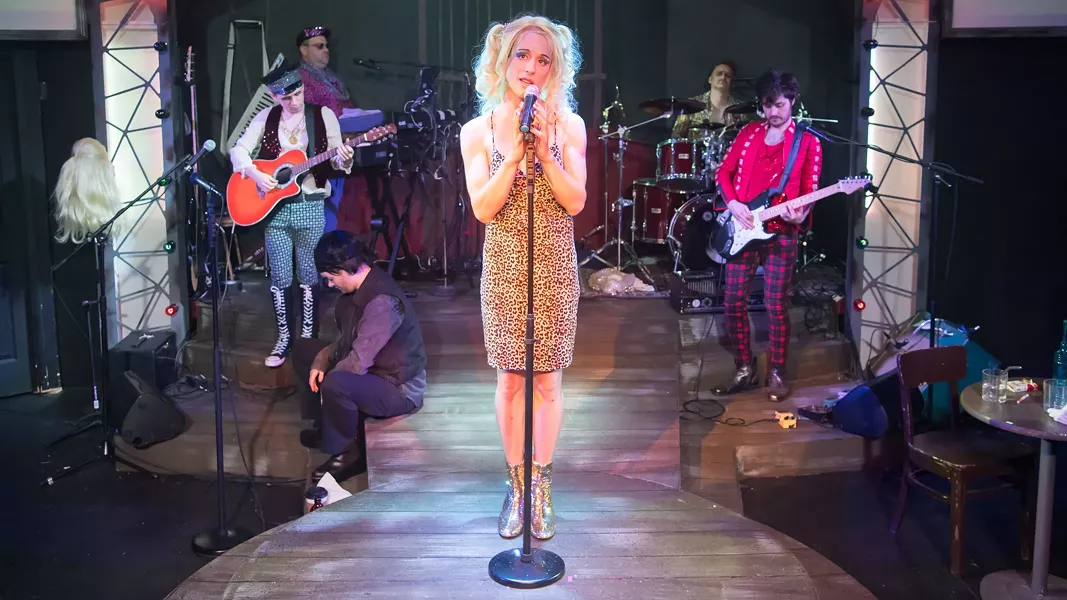 Coincidentally, the casting of this particular production of Hedwig features performers that Turchan considers family.
"It's so exhilarating to play with this particular group of people and to sing next to Claire Twigg, who I worked with last year when I directed her in
Carrie: The Musical
at Near West Theatre," he says. "The band is so talented and all equal parts musical theater lovers and true glam/punk rockers, I can't quite describe the connection we all seem to have, nonverbally, up there."
Noah Hrbek is on guitar as Jacek, Zach Palumbo on bass as Jaime, music director Bradley Wyner will be on keyboard as Skszp, and the David Bowie tribute performer behind Diamond Dogs, Richard Kline, is playing the drums as Schlatko.
The production is directed by Alison Garrigan, whom Turchan first met during a 2001 production of
Gypsy
at Great Lakes Theatre.
"We'd actually worked together," Turchan says. "Now I get to do this with her, which is a dream; she's the original Yitzahk from the Cleveland Public Theatre performances. I feel like I'm living in a dream world or that maybe I'm dead."
While not an officially recognized event for Pride month,
Hedwig and the Angry Inch
is a show that has resonated with and has been celebrated by the LGBTQ community since its premiere in 1998. And Turchan recognizes the power of playing a queer icon.
"It's very important to me that Hedwig remain a symbol of a divide, not a symbol of the trans community," he says. "I am not trans but I do think deeply about the spectrum of gender and my place on that beautiful rainbow."
Thanks to the current political administration, now, more than ever, producing shows like
Hedwig
are becoming increasingly important.
"People around the world are rejecting more quickly than ever the idea of gender, and this piece celebrates everything feminine and everything masculine that creates and destroys the world," Turchan says.
One of the major themes in
Hedwig
is about the "Origin of Love," borrowing from Aristophane's myth as related to Plato.
"It's a reminder that this is not new information that humans have toyed with, in fact, it's so old that it's almost boring to be shocked by gender bending or people using whatever bathroom they believe they need to in order to feel human," Turchan says. "I believe, much like when we performed
Cabaret
at Blank Canvas Theatre last year, it's almost a post-modern joke: are you STILL shocked by this?"
Turchan, well-spoken while rocking a flying squirrel suede top and leather pants on this Wednesday afternoon, continues to analyze the impact of a piece like
Hedwig
.
"In order to move forward, we need to continue to challenge those that would rather ignore human beings in all their glory," he says. "People would rather see the person that looks just like them as the majority. but us freaks are out here; that's what Hedwig is here to say. We are here. We are broken. And we want to pick the pieces up and create something beautiful and new."
Hedwig and the Angry Inch
opens Friday at Blank Canvas Theatre in Cleveland's 78th Street Studios and runs through June 23. Find tickets and showtimes
here
.