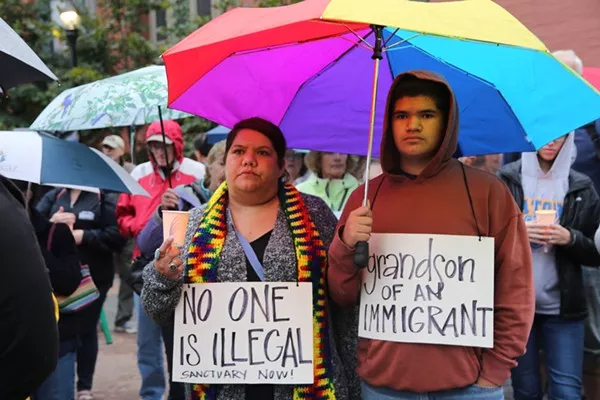 Photo by Emmanuel Wallace
DACA rally in Ohio City earlier this year.
After the
raid of 114 immigrants
in Sandusky last week, Cleveland and other cities across the country are planning protest marches alongside the organization,
Families Belong Together
this Thursday.
The official mission statement of the organization is as follows:
Families Belong Together opposes the cruel, inhumane and unjustified separation of children from their parents along the U.S. border with Mexico and at other ports of entry into the U.S. We protest the conditions in which these children are kept. We protest the irreversible trauma that has already been perpetrated on these children and their parents for the crime of seeking a better life.

To separate immigrant families, victims of violence, hunger and poverty, is to re-violate them. Children as young as 18 months are torn from their mother's arms by the U.S. government. This is violent abuse. These families are victimized again by the government to which they turn for help. Families Belong Together opposes the inhumane policies of the Trump Administration, Border Patrol, and I.C.E. and calls for immediate reform.
While everyone was too distracted debating the use of the
non-cancerous "c-word"
on her show
Full Frontal with Samantha Bee
, that same segment Bee actually delivered a sincerely insightful analysis of the department of U.S. Immigration and Customs Enforcement, and how the department actually is unnecessary.
ICE was first established after the terrorist attacks on September 11, but as Bee said, "by putting the anti-terrorism people in charge of immigration, the government signaled that immigrants are a threat."
Immigrants are now often seen as "
bad hombres
" by some of the more ignorant members of society, even though
ICE's own figures
show
most immigrants in detention offer no threat
to Americans.
HOLA Ohio
's Veronica Dahlberg said she and others spent all day Sunday with a representative from the Mexican Consulate, meeting individually with families and children of those detained.
"By our count, over 200 children are now contending with one or both of their parents in detention – just from one day to the next."She spoke with WOSU Public Media stating," Dahlberg
told WOSU Public Media
.
On top of this, there are approximately 1,500 immigrant children that currently
cannot be reached
.
ICE told WOSU that they are in the early stages of their investigation and would not comment on deportation plans.
Cleveland's March Against ICE will take place between 4 p.m. and 7 p.m. at Public Square.
Those that are unable to march on Thursday, but would still like to contribute to the cause, can start by
donating to HOLA Ohio
's efforts to deposit funds into jail accounts of detainees, thereby enabling them to call their attorneys and families, or have access to provisions in the detention center.