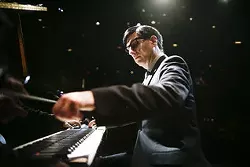 It's hard not to like a Hershey Felder show. Like a friendly and incredibly persistent Scotch terrier, Felder's shows hump your leg with gusto until you're forced to give them your full attention.
Such is the case with Hershey Felder as Irving Berlin, which is another in Felder's long lineup of one-person shows about famous composers and songwriters. That list includes Gershwin, Chopin, Beethoven, Liszt and Tchaikovsky. And the staging is usually always the same: Felder playing the piano and singing (when appropriate) while narrating a dutiful accounting of the person's life, musical and otherwise.
Felder is an accomplished pianist and a trained vocalist, so those aspects of the show are always handled with professional skill. As a result, we are gifted with parts of many of Berlin's songs including his breakthrough hit "Alexander's Ragtime Band," and his monumental "White Christmas." All the songs aren't represented, since the industrious Berlin penned about 1500 of them, but you get the idea that this Russian immigrant was a pillar of American music.
What you don't quite get a sense of is what kind of person Irving Berlin really was. As good as Felder is at the piano and singing, his skills at writing (the book is his, as always) and acting are less than stupefying. In about two hours Felder tries to touch on every substantial milestone in Berlin's life, which is the format he generally employs. But this Wikipedia approach, while comprehensive, never takes the time to slow down and really explore the triumphs, fears and anxieties of such a towering talent.
And even if the words were there, it's not clear that Felder could convey them, given his rat-a-tat acting style, which is always eager to move on to the next song, the next biographical tidbit. There certainly are aspects of Berlin's life that would be rich sources of further analysis, such as his long relationship with his wife, the upper-crust Ellin Mackay and his boundless wit ("Anything You Can Do, I Can Do Better" and "Puttin' On the Ritz").
The fact that this poor Jewish immigrant became an avatar of American patriotism ("God Bless America") and the creator of two of the most popular tunes relating to a religion that wasn't his ("White Christmas" and "Easter Parade") is a testament to his heft as a musical creator, but that depth is never plumbed. He even wrote a heart-wrenching song inspired by the lynching of a black man ("Supper Time") sung by Ethel Waters, that conveyed the tragedy of race relations at the time in a very personal manner.
But those potentially interesting moments go by in a flash, and the result is a profile of Berlin that is a mile wide and an inch deep. That said, Felder is a talented and determined performer and he creates a tuneful, diverting show. Why quibble when we can just take Mr. Berlin's advice: "Let's Face the Music and Dance!"
Hershey Felder as Irving Berlin
Through June 24 at the Cleveland Play House, Playhouse Square, 1407 Euclid Ave., 216-241-6000, clevelandplayhouse.com.